Browsing Category: "Home and Improvement"
Even though a lot of homeowners focus on refining and redesigning the interior of their houses in order to keep the property value high and to keep up with changing trends in the world of interior design, the truth is that you should never neglect the exterior of your house either. After all, this is the first impression you make on people, as it's the first thing they encounter about your home. An unkempt property may make someone think that you don't really care about your house, and they'll also assume that the inside of the house must look just as bad.
Thankfully, there are plenty of easy ways to maintain the look of the exterior of your home. Continue reading for a few solutions you can implement to spruce it up.
Add Pavers Instead of Concrete
Concrete driveways are unattractive and they can even crack and begin to look even worse over time. As a result, many homeowners are now transforming their concrete walkways, driveways, and backyard patios with attractive pavers that come in a variety of colours and shapes. These blocks are set down into the ground and provide a long-lasting option that will add colour to the exterior of your home and make it look clean and modern. Be sure to properly maintain your pavers with sealer so they'll withstand the elements and continue to look like new for years to come.
Add a Bright Front Door
You can take the door that's currently on the front of your home and repaint it, or instead purchase a brand new one, but making it a bright door is a great way to spruce up the exterior appearance of your home and make it even more welcoming than before. Go with a bright colour, such as yellow or turquoise, to really stand out and make your home appear fun and clean.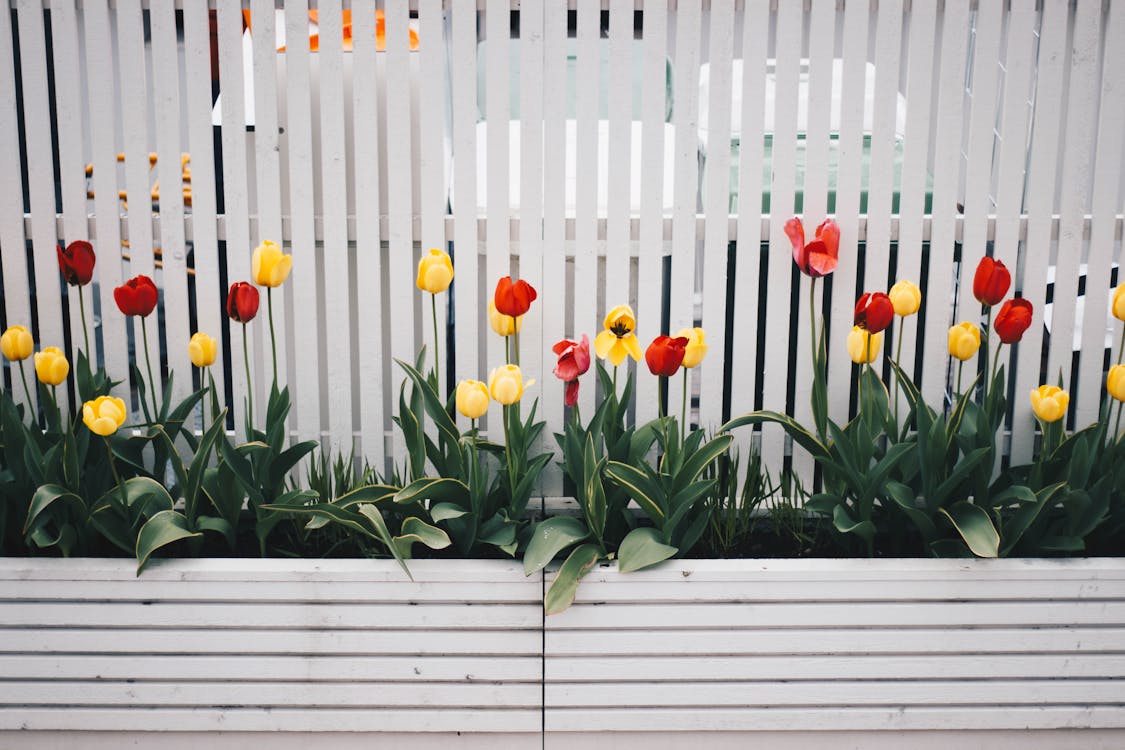 [Photo courtesy of Kristina Paukshtite /pexels.com]
Add a Fence and Flowers
A white picket fence is a great way to instantly add curb appeal to your home. But planting colourful and fragrant flowers and vines along the edge of the fence will add even more beauty to it and make your lawn even more inviting. Plus, you will get to see these plants as they change from one season to the next.
Reinvent Your Siding
If the siding on your house is beginning to look aged and dirty, you do not necessarily need to completely replace it, which can be a costly renovation that you may not have the budget for. Instead, there are many DIY approaches that you can take to repair your siding, whether you have aluminum, vinyl, or any other type of siding. This simple step can be the most dramatic change you make to your home's exterior, and it can make it look years younger.
Updating the exterior of your home should not be something that you neglect. Instead, take the time to keep your property clean and looking beautiful. This will make your home more welcoming and more valuable.
Home makeovers can be costly, but it is possible to make your home more appealing without splashing out a premium. How can you achieve this?
Throw out the clutter
This is a totally free way to make the space in your home look more inviting and presentable. All you have to do is throw away the junk and donate anything in your home that is no longer useful to you right now; or in the foreseeable.  Why keep that old typewriter you've not used in a decade? Do you really need to keep the hundreds of CDs stacked up in the corner? What of old, worn out toys? You will be surprised how much space you can free up by doing this.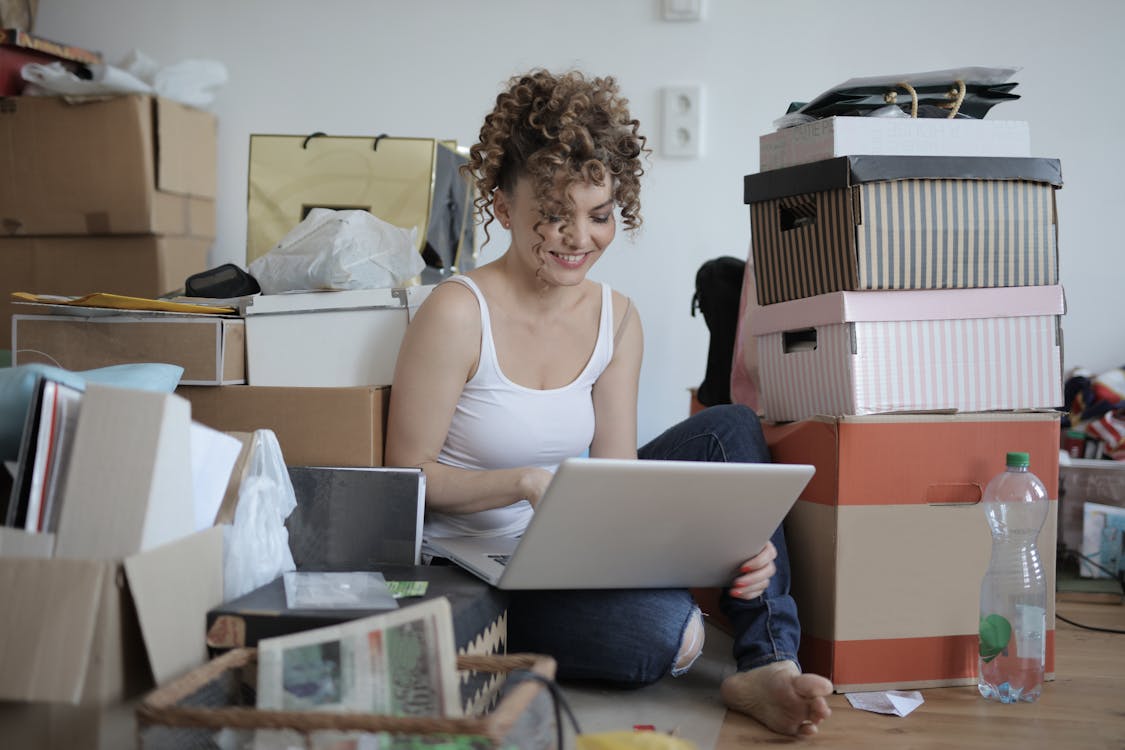 [Photo courtesy of Andrea Piacquadio/pexels.com]
Refinish your mismatched furniture
Mismatched furniture is guaranteed to make your home look disorganised.  If you have all-black furniture and a couple of blue wooden pieces around, you can even things out by painting the wood pieces black as well.  Most of the time, the colour combination you feel great about may actually be upstaging the aesthetic balance of the space.  Primer Magazine has a great piece on dealing with mismatched furniture. The piece is aimed at young men, but the ideas can be implemented by anyone.
Bring in some nature
Go to any public park near you and get some pine cones you can put in a bowl. If there are no woods around you, simply pick a few pine branches anywhere and put them in a jar or vase.  If you still can't find any, head off to B&Q, or any shop selling house plants, and buy a couple. The plants will not just give your home a beautiful relaxing ambiance, they can also improve the air quality.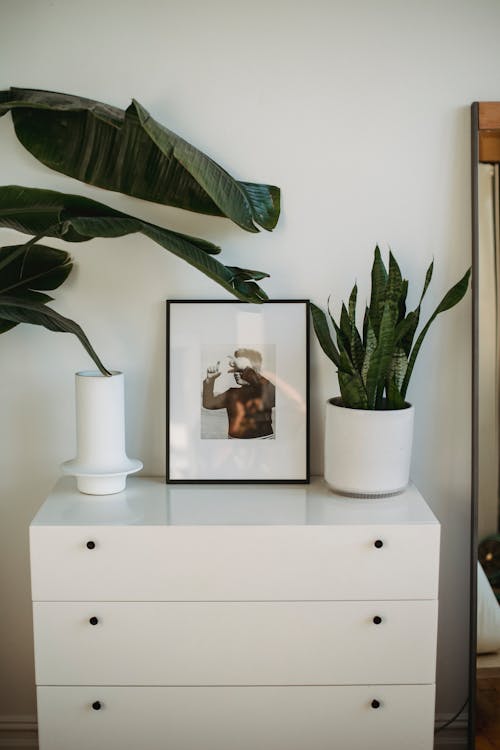 [Photo courtesy of Samson Katt/pexels.com]
Similarly, look for beautiful rocks that can be placed strategically around the house. Instead of having broken chairs as door stops, interesting rocks will make more aesthetically appealing alternatives.
Remove decaying hardware
Replacing that wooden shelf that is already bent to the side with a lovely but simply constructed steel shelf can instantly lift the mood around the space.  A bent shelf paints an uncomfortable picture- bad Feng Shui no doubt too. A good steel shelf can be bought for relatively little, and will not just beautify your home, it will comfortably carry the weight that has bent over your old wooden shelf.  Apart from the shelf, look around to see any other hardware that needs replacing. Picture frames, wine racks, etc. are the major suspects.
Loft Conversion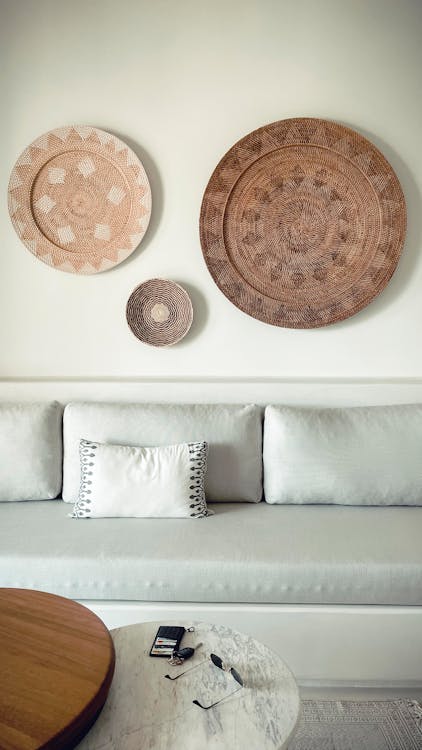 [Photo courtesy of Efecan Efe/pexels.com]
You might be surprised how affordable a loft conversion may be. You may need to reinforce with steel from a company like cannonsteelsltd.co.uk but overall the price should be very reasonable, especially considering the increase in home value you achieve through the process. So this really isn't a cheap process but is certainly one that can be great value because of the appreciation you receive in your house value. Give your guests a room of their own, nay a floor of their own, is a wonderful way to make them feel at home. Just make sure you don't put all the clutter from the loft downstairs.
Reorder the space
Consider moving some of your big items to new positions. You'll be surprised how much difference you can make just by rearranging your living space. A good tip is to put items of a specific colour together. This clustering can develop a theme to a specific area. For instance, you can have your blue books on one part of the shelf and the red ones on the other part. Grouping items by theme or colour will help you achieve a unified look free of charge. Just make sure that you don't create too many themes to a single room, or you pull everything together with an individual theme. Nothing looks messier than a room that is disjointed and without flow. You can get some great ideas for theming your living space on pinterest.
With these tips, you can quickly enhance the appeal of your home without spending too much money.
You do not realize the effect that the atmosphere can have on a room until you enter one that is completely devoid of one, or has a really bad one. Different atmospheres create different moods and, if like me, you like to be relaxed and chill out in your living room, creating the right atmosphere is essential. Here, I have outlined a few ideas that you too can use to create the best atmosphere for you to relax in and let the stresses of your day simply float away.
Colour
The obvious place to start is with the color of your room, and there are many colors you could choose from. If you need some information on the best colors for the atmosphere you desire, you could visit a website. However, for a relaxing atmosphere, you can always rely on old favorite's like pastel blues, violets and greens. Any of these colors should create a calming atmosphere that will have you relaxed in no time.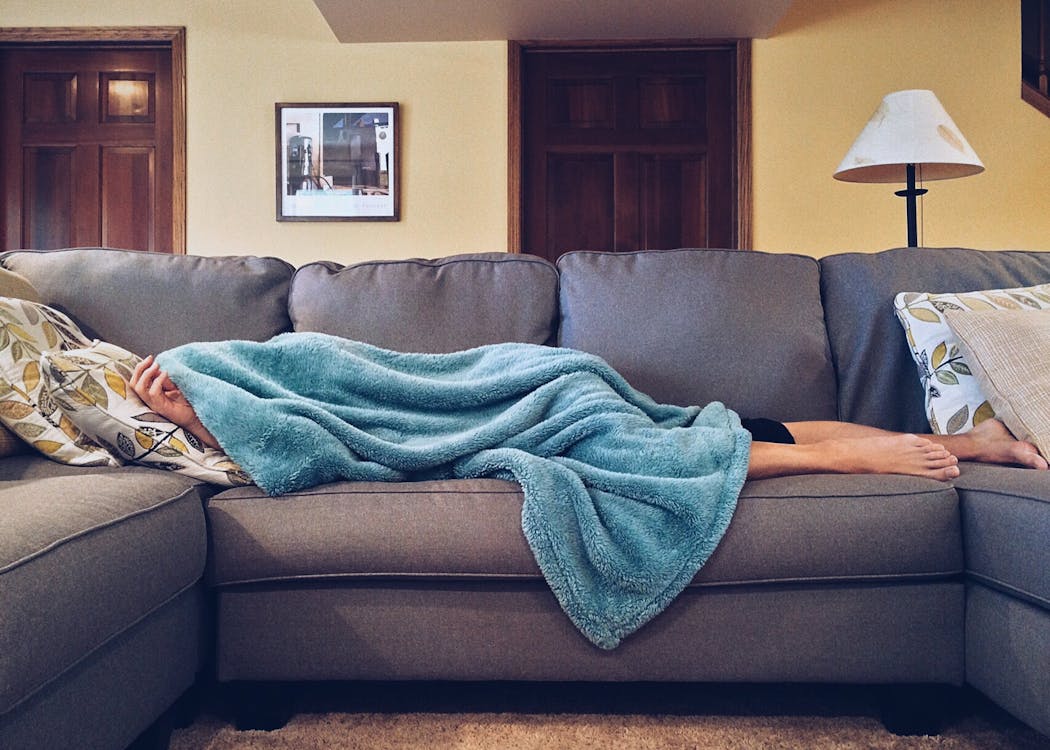 [Photo courtesy of Pixabay/pexels.com]
Warmth
Being able to cuddle up on your sofa with a cup of hot chocolate is a tried and trusted way to relax, though if you are cold at the time relaxing becomes a lot more difficult. Providing a nice ambient temperature will make a lighter atmosphere and help you relax. A great way to improve the atmosphere of a room while also controlling the temperature is with a living flame fire, and if you are lacking a chimney or a gas supply for the fire, you needn't worry anymore. You will find a selection of bio-ethanol fires that are both stylish and functional, and that will certainly help give you atmosphere with an added warmth.
Smell
They say that the best way to sell a home is by baking bread, and this is because it creates such a homely atmosphere; and you can utilize smell in a similar way to improve the relaxing atmosphere in your home. There are many aroma diffusers available to buy, and many of them can be adjusted to periodically infuse your lounge with the aroma of your choice; meaning that your lounge will always smell the way you want. The choice of aromas is now huge, as more and more are discovered that either smell beautiful, or help medically. No longer do you need a can of spray from the supermarket, now you can bring aromatherapy into your living room.
Music
With the right choice of music, it is possible to forget everything else, and become lost as note after note flows through your consciousness. Whether it is your lounge, bathroom, or a home salon, music is the perfect way to change an atmosphere to one where you can feel at peace with the world. Obviously, music can be changed very easily, and is the most adaptable way to create the atmosphere you want at the time. No home should be without music, and a varied music selection will enable varied atmospheres; be it a relaxing one or not.
Living in a grey home, with a grey atmosphere, leads to grey people. Living in a relaxing home with a relaxing atmosphere leads to relaxed people. Personally, I like to be relaxed, not grey; and if you do too, I hope these ideas will help you.
It is pretty stressful having a hard day at work and the air conditioning unit broke up in your home and when you live in a large city, it can be difficult to get some fresh air. Especially if you live in the inner city, it might seem impossible because of the tall buildings and lack of trees. However, there are plenty of ways to increase the circulation within your home no matter where you live.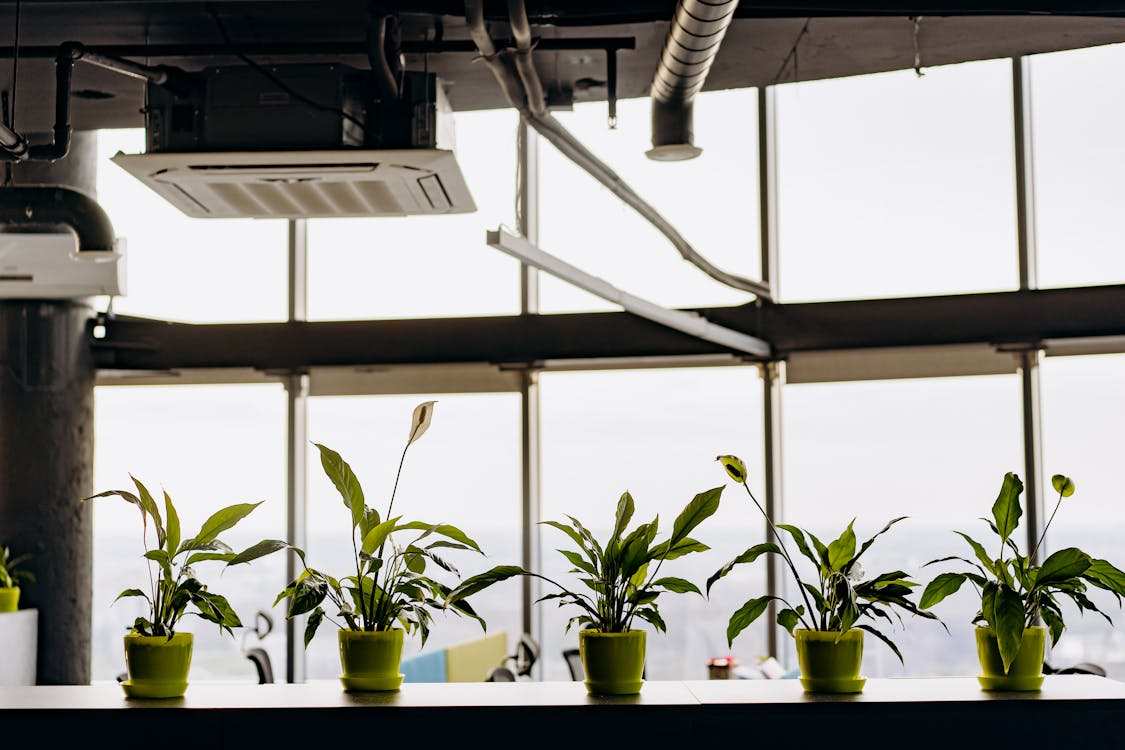 [Photo courtesy of Mikhail Nilov/pexels.com]
The simplest thing to do is to open your doors and windows. Again, however, you may find this to be difficult if you live in a heavily polluted area with a lot of outside traffic, etc. Even so, try opening your windows at night when it is cooler out and there is less traffic for some fresh air. A window fan can be placed on the ledge for better air circulation and if not that, consider installing mesh covers to let in the air and keeping the excess debris out. Other than a traditional fan, consider installing exhaust fans in humid areas such as the kitchen and bathroom. By drawing the excess water in, you will be able to breathe better with less humidity and contaminants in the air.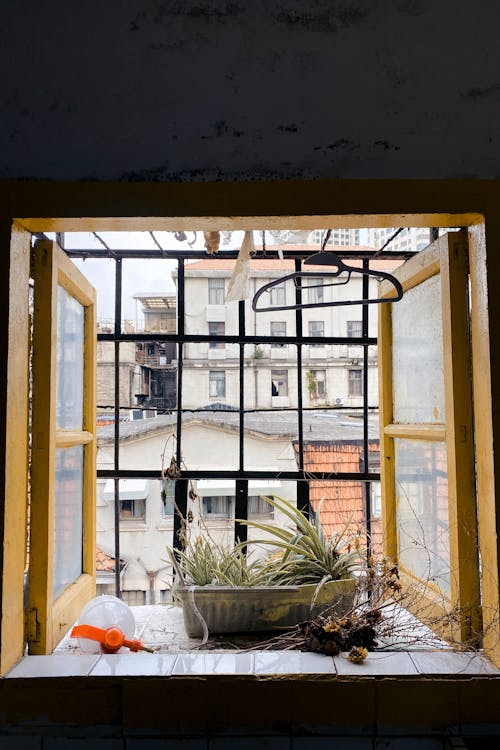 [Photo courtesy of billow926/pexels.com]
When such situation happened that the temperature inside your home is uncontrollable, all you need is to find a cool place to unwind. Stepping out of your house to get yourself a cup of an iced coffee may help you relax and feel better,  but stepping up into the home entertainment section would be best to reduce the exhaustion you are feeling, as you have to let your mind focus into something different.
There are many options, from exploring the web and playing interactive online games , such as card games, word games, logic games and many more without downloading any app.  It is proven that playing video games can reduce stress and place you in a good mood by increasing pleasure. Pleasurable activities increase dopamine, a neurotransmitter that makes you feel good. These positive feelings are a great tool to combat daily stress and create a flow state, similar to meditation.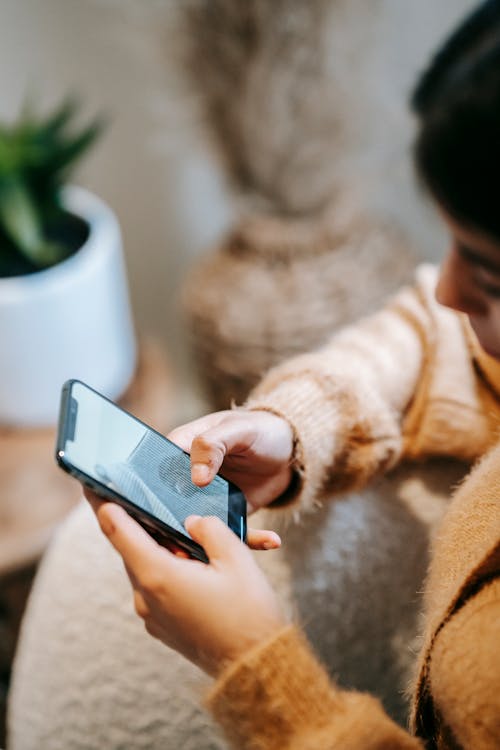 [Photo courtesy of Liza Summer/pexels.com]
Activities that provide instant gratification totally transform those feelings of stress. Playing and winning can cause instant gratification, receiving a reward can make your feeling positive right away and can make you more engaging and productive at home.
Here are top picks of games you can play when you are stressed out and feeling tired from exhaustion, of having no fresh air at home.
Candy Fiesta Game
If you are candy crush fanatic, you will enjoy this games where you have to match 3 candies game and try to score as many points as you can in 65 moves. Valid moves require you to swap piece positions so that you create 3 or more in a row vertically or horizontally.
If you are not a keen observer, this is a bit challenging game where you have to find all the hidden objects in the garden, morphed into their location.  This game has 10 levels which are timed where you can score up to 3 stars on each level based on how quickly you find the missing items or complete the puzzle.  If you are stuck on an item you can click use a clue by  clicking [?] at the bottom, then click on the item to reveal where it is located, this will cost you one hundred (100) points.
To win this game, you have to match 3 or more same tiles or candy in a vertical or horizontal row for these to vanish. Matching more tiles will give you power-ups that you can use to destroy other tiles. It has a timer so make sure you complete the task given on time.
On the other level, some tiles are locked and can't be moved. You can only break these by matching 3 or more tiles adjacent to it. My favorite power-up is the rainbow which can be earned when you make 5 in a row. This will remove all pieces of your chosen color from the board.
Letter Scramble
The classic letter scramble is easy to play by typing the available letters and making words. There are three levels where you should spell more words from 20 until 40. You can also repeat the words but the gist of this game is for you to type out the longest word that you can.
Do you look in your garden and feel there is something missing? Could it possibly be that that missing thing is a swimming pool? A swimming pool is the perfect addition to your home, the thing which takes your home to the next level. Of course we have to accept that not everyone has the space – or the money – for one, but hey, we can still dream right? We all enjoy a splash in a pool, but why do you actually need one?
A swimming pool is a proven health benefit, with most doctors agreeing that a pool is an excellent source of exercise. This is because of the amount of muscles at work when you swim. The water resistance provides something for all your muscles to be working against. A good cardiovascular workout can be done by swimming lengths, water weights or aerobics or even just going out there for fun. The great thing about this is that swimming in itself is fun (though I know a lot of people would disagree with that!), it's not something like running where you feel like you have to force yourself out of the door every time. Keeping yourself fit in the pool can also only be a good thing for your personal/love/sex life… I am sure you have all heard of the famous 'swimmer's body'? That can be you.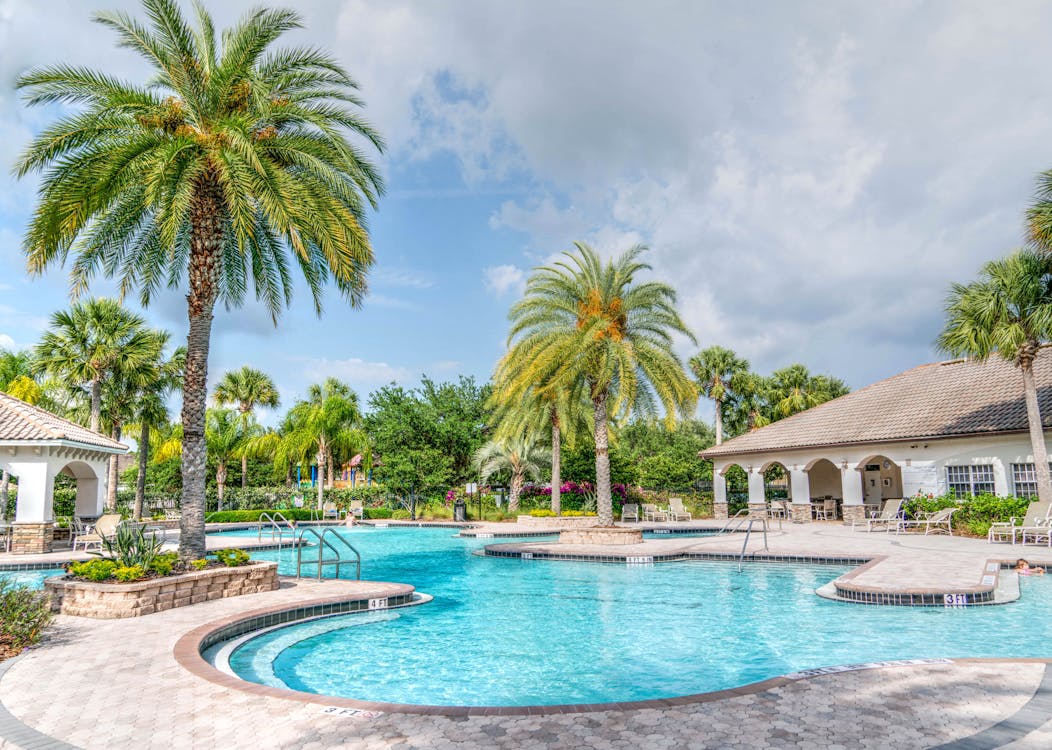 [Photo courtesy of Pixabay/pexels.com]
If you aren't into lengths, there are a number of games to play in the pool, which can be entertaining for both children and adults. In fact, that is another great thing about a swimming pool – most age groups can enjoy them. A good game can be found with the simple addition of a ball, they are not just for playing football (which would be pretty impossible to play properly in a pool) but you can always play volleyball. Okay, so you need a net too, but it's hardly expensive and if you're already considering a pool then I am guessing that you have some extra money to use. Pool volleyball is a fun game for anyone of any age, whether it's a bunch of kids playing or a party activity for adults. Don't go thinking that is the only game though, you can also buy some basketball hoops and play basketball – though admittedly bouncing the ball has the same problems as playing football in the water, but that does not stop you from trying to score a 3 pointer and becoming the Michael Jordan of your pool. I have only highlighted two games to play, but there is a plethora of games to play in your pool, the scope of your imagination provides no limits. If you are intent on playing games in your pool – (and let's face it, why wouldn't you be!) – then you need to consider effective channel drainage solutions to help drain away all the excess water that will no doubt be splashed out of the pool during those games!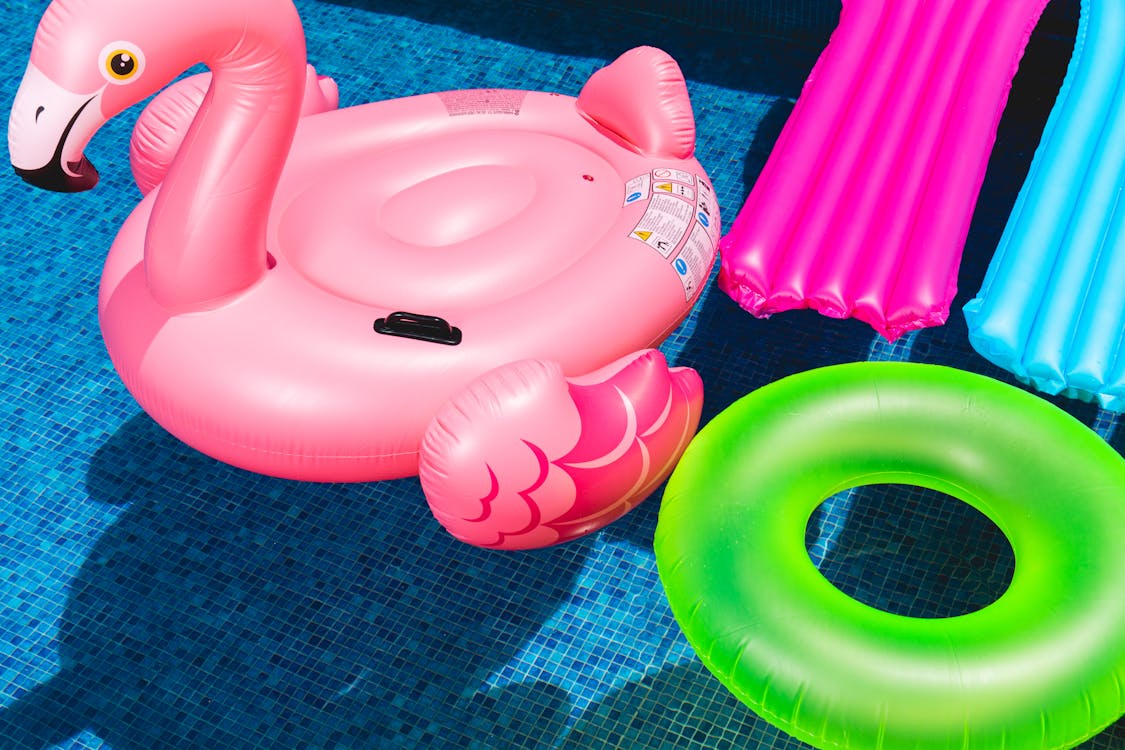 [Photo courtesy of Toni Cuenca/pexels.com]
Still not convinced? Well how about the simple fact that it's a swimming pool. Think about that for a second, think about how awesome it would be to say that your house has a swimming pool. You will instantly become that much more popular. Sorry, but it's true. It would be just like the first time you got your new huge HD television, you would just stand there and marvel at it. Yes there are a lot of things which need to be thought out before you dive in to a final decision and yes a pool is a large investment, but it's an investment – not an expense. An investment means that it should just keep giving and giving.
Spring cleaning is something that needs to be done in everyone's house. For some people it seems as though they actually look forward to this time and being able to get their house back in order and things cleaned up. For others it seems like an impossible task to get everything done with the busy life that they live. Regardless of how you feel about spring cleaning you will be happy to learn some great green tips to help you reduce your environmental impact.
Make Your Own Cleaners
Did you know that it is really possible to make your own cleaners? Simple ingredients that you already have around your home like distilled vinegar, Borax, olive oil, baking soda, liquid castile soap, and essential oils are all that you need to replace nearly every single cleaner in your home.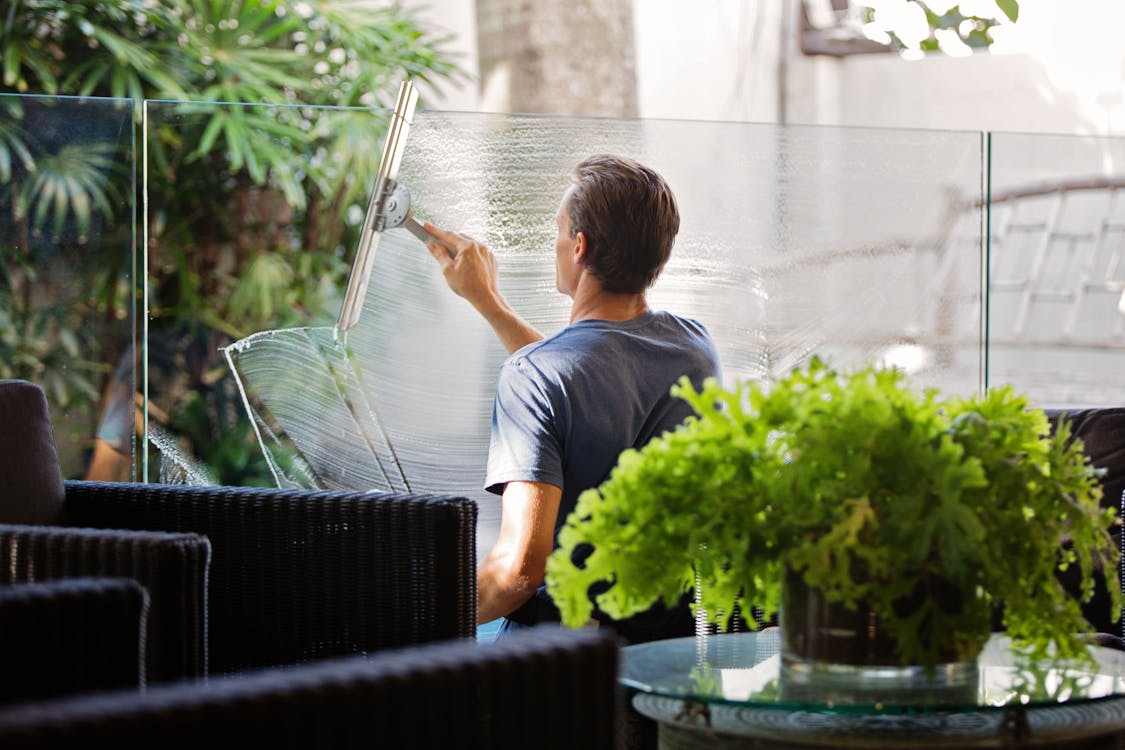 [Photo courtesy of Nathan Cowley/pexels.com]
Choose Eco-Friendly Cleaners
Thankfully, for those who do not want to make their own cleaners, there is a huge selection of eco-friendly cleaners on the market today. These can guarantee you the clean that you are looking for without the harsh chemicals that are dangerous for your family and harmful to the environment.
Line Dry Laundry
One of the biggest things about spring cleaning is that you are going to be doing a lot of additional laundry. This is the time when you should be washing curtains, blankets, and other linens that you might not wash all of the time. Line drying these items will save a lot of energy and will give them the wonderful scent of spring.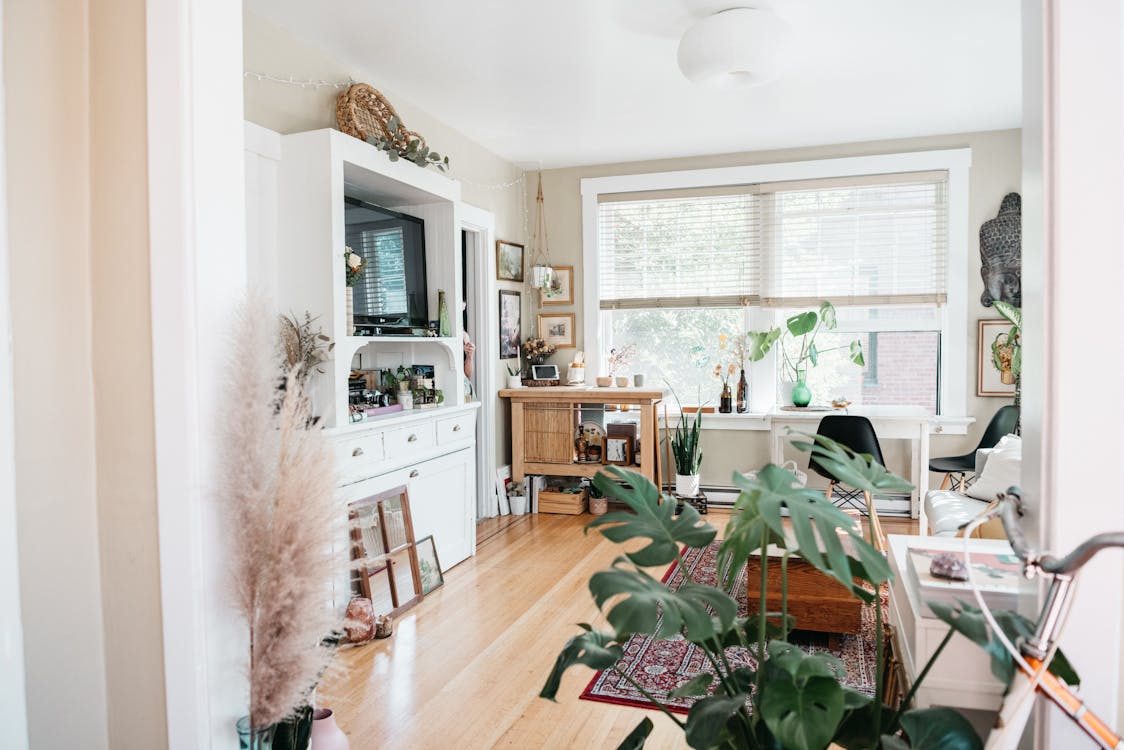 [Photo courtesy of PNW Production/pexels.com]
Use House Plants
Did you know that house plants can work like your own air filter? That's right, having plants in your home can really help you to have cleaner air to breathe for your whole family.
Get Rid of Things You Do Not Use
De-cluttering not only helps you to feel better and more refreshed but it can also help you to have a more efficient home. When you are getting rid of things like clothes consider which ones you can cut up and reuse as things like cleaning rags. Also decide which ones you can sell or donate.
Invest in Reusable Mop Pads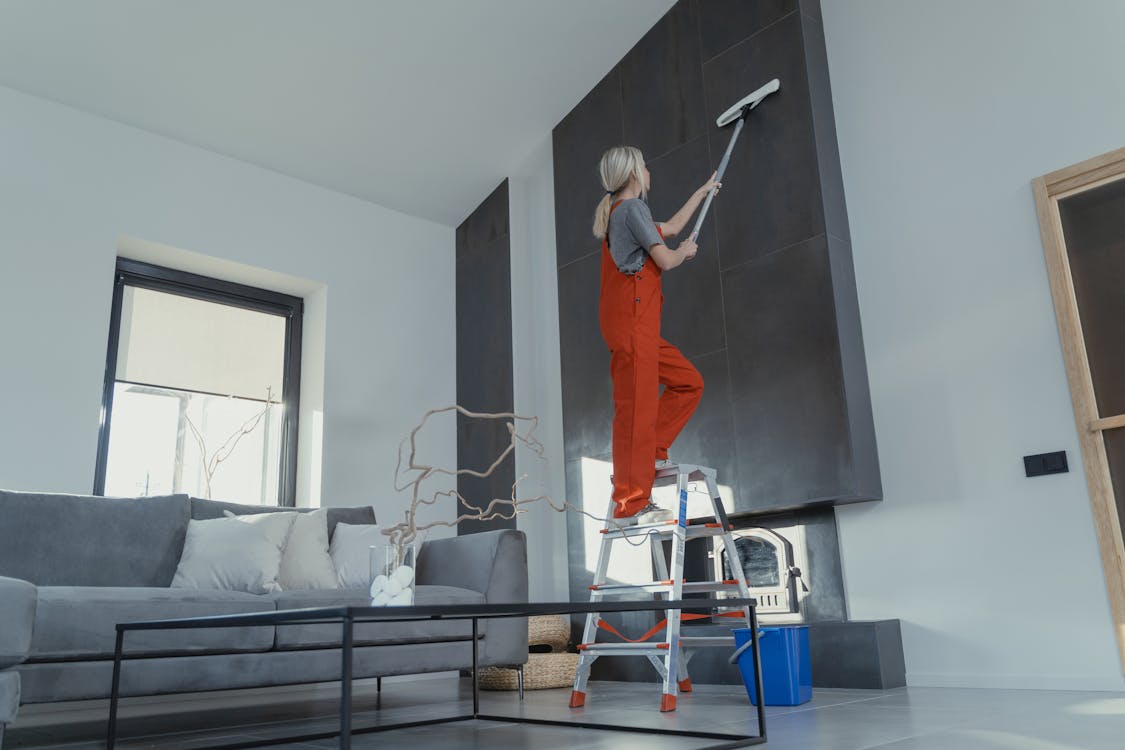 [Photo courtesy of Tima Miroshnichenko/pexels.com]
There are many great companies on the market today (or you can shop handmade marketplaces) where you can find reusable mop pads. This is much better for the environment than the ones that you use once and throw away.
Have Your Attic Professionally Cleaned
Did you know that animal feces and contamination in your attic can make you sick? It is important that you clean up and remove potentially harmful contamination when you are spring cleaning. Make sure that no surface is left untouched during this time of deep cleaning. Just make sure that you pick a company that will work with you for green cleaning and will not be using harmful chemicals to get rid of these contaminates.
Resist the Urge to Use Paper Towels
While paper towels can be handy, they mainly just contribute to landfills and cause there to be a need to cut down more trees. Resist the urge to use paper towels in your spring cleaning and if you must choose environmentally friendly options.
Open Your Windows
Fresh air is a great way to make your whole house smell better. It is also a great way to make your green spring cleaning go easier.
If you really dread spring cleaning you can try some fun spring cleaning activities like these. You might even find that you are more motivated than before and able to get things done quicker.
There's no doubt you've fanned through millions, yes millions of interior decorating magazines, home decor magazines and viewed a few thousand of online websites getting ideas for your homestead lair. Well, perhaps that's an exaggeration. Things are either out of your budget, or may be you've had to resort to the best you can do: word-of-mouth recommendations from family, friends or co-workers.
Online Renovation Portals
However, when the proverbial rubber meets the road, you're left on first base trying to find the perfect match in expert craftsmen, renovation ideas and budget-friendly alternatives. You can be put at ease now by using online directories of remodeling experts such as Renovation Experts.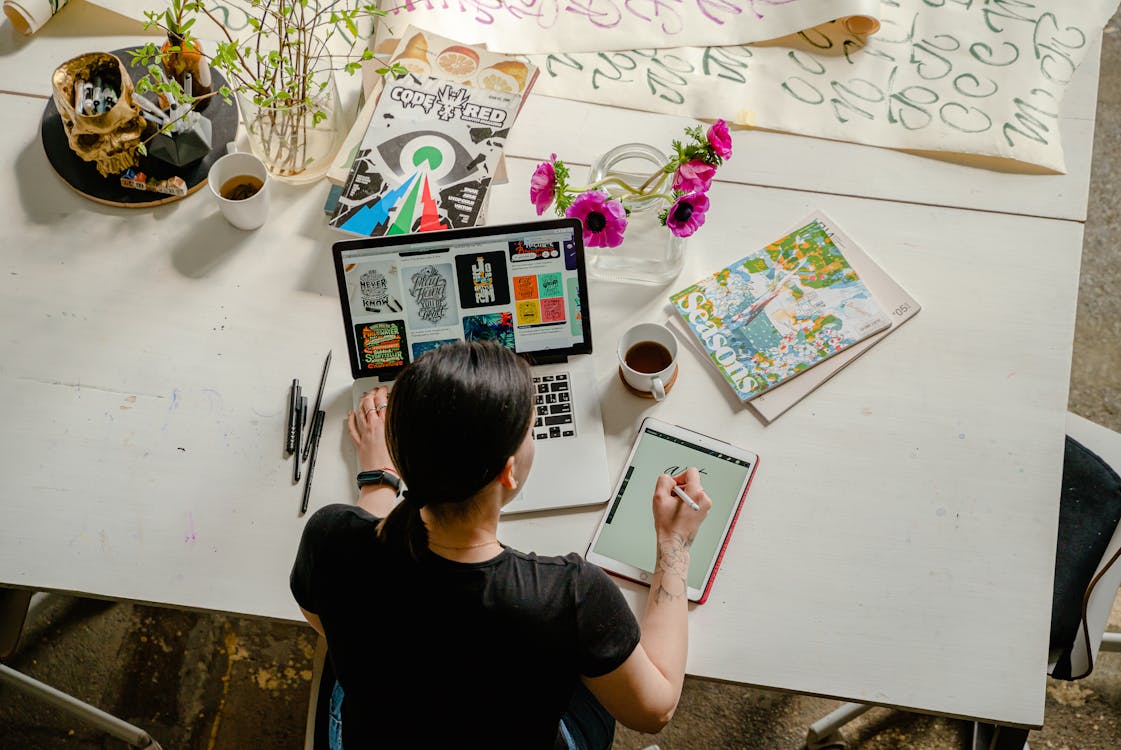 [Photo courtesy of ANTONI SHKRABA/pexels.com]
Not only will they host several hundred restoration experts on their portal page, but you'll have them categorized according to whatever you need: electrician, masonry, cabinetry craftsmen or roofers.
In addition, you'll find posted entries that may give you the best prices and quality material choices such as in bathroom vanities or even a rain barrel diverter for those who are environmentally conscious.
Archived Articles About Ideas You've Been Thinking About
Fine, quality and information-driven articles will help start you on your way to that remodel or renovating project that you've wanted for so many months. This includes tips of advice on what to do before you get into a contract negotiated mess or come up short with the material quality you've expected.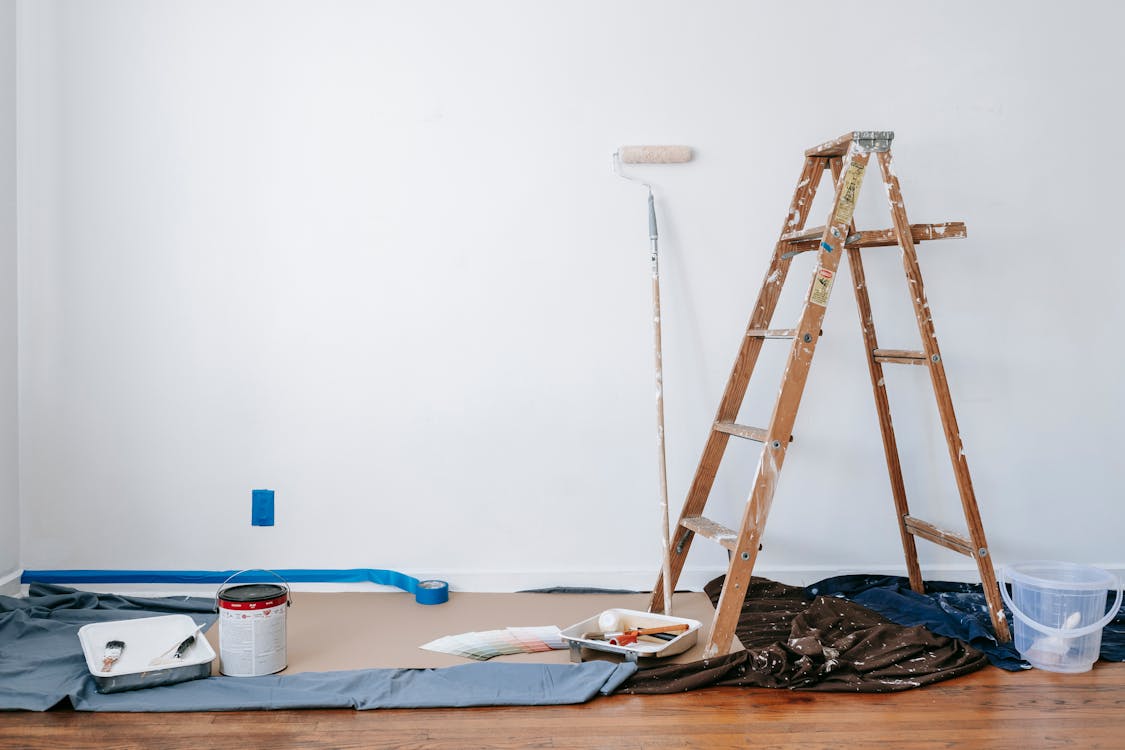 [Photo courtesy of Blue Bird/pexels.com]
Sometimes, it's not the fault of the contractor, but many times the fault may rest on a misunderstanding between the homeowner and the contractor both. So, don't up short at any level. Check with your online portal for the best selection in contractors, prices and materials used.
How Online Portals Work
Although not all renovation portals work the same way, here's an idea of how it's done at Renovation Experts. By filling out an easy online contact form, you'll be sent several contractor emails, sometimes within minutes, from various contractors all asking you to call them so that you can better explain what you need and have in mind.
Once mutually agreed, they'll ask to come out to your home or site to actually view the project and to give you an honest evaluation–before you consent in writing to begin on any work.
That being said, your best bet is to simply visit one of the hundreds of construction, remodel and renovation directories, and check around to see who or what you prefer. You have nothing to lose except a little time–and that's well worth it in getting that dream job you've always wanted.
When you are in college moving away from home is necessary when school and universities are not around.  This is the time you need to be independent and live alone far from your family and friends, and to maximize comfort and provide the feeling of your own room from home you should shop for best r
Shopping for dorm room bedding bargains requires time for searching, patience, and vision. Think outside the box. Be unique. Make your environment comfortable without breaking the bank. Durable, quality bedding is a must. You will spend a lot of time hanging out and studying here.
While it may seem like an insignificant purchase in the realm of preparing for life away from home, the selection of dorm bedding can make or break the first year of college. After an all-night cram session, during a short afternoon break or when friends stop by for a visit, the perfect set of bedding can maximize comfort and provide the feeling of "home away from home." From organic cotton bedding to luxury bedding, the choices are endless.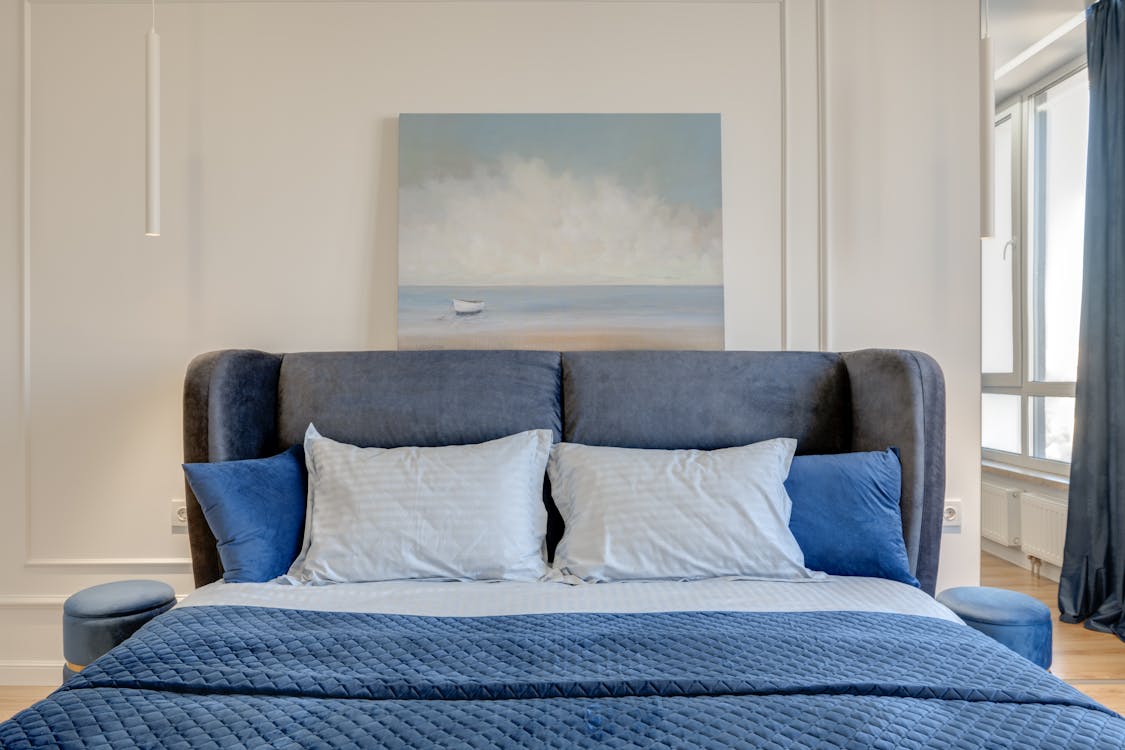 [Photo courtesy of Max Vakhtbovych/pexels.com]
There are many things to consider when choosing dorm bedding. The right size, manufacturer, brand, color or pattern, texture, thickness and price all must be considered when making this selection. Every university has different rooms with different beds, or students may bring their own beds. A student's gender also plays a large role, which may lead to the purchase of more feminine or masculine sets of bedding in order to satisfy the student's tastes. A major factor for many students is the price of bedding. Price is often dictated by brand name, and thread count can make the difference between a $30 and $300 set. Organic cotton bedding is made out of natural materials that many feel are better for the buyer and the environment. However, organic fiber is typically more expensive.
When purchasing twin-sized dorm bedding, students should do their homework long before they set foot in a dorm. Cost, material, comfort, color and style are just a few of the factors to consider when furnishing a student's bed. While it might be tempting to spend money on new outfits or gadgets when going back to school, students should keep in mind that a bed is something that they can't hide and will use every day, so they should outfit it accordingly.