Browsing Category: "Home and Flooring"
If you are looking to update your home, chances are you will be looking at spending some serious time and money if you don't have a plan in place. Although painting and changing out draperies could be quick and cost-efficient fix, a total room makeover inevitably includes new flooring. Without the right know-how and in the interest of your budget, you might settle for a boring but finance-friendly fix. You might be surprised to find out how economical epoxy floors can be when compared to other materials.
Epoxy flooring moves beyond commercial applications.
Professional garage shops and commercial buildings are typically places where you will find the shiny and durable application of an epoxy-coated flooring system. The coating is a combination of hardeners and resins which creates a solid surface that bonds to many material types once it has dried. While it does provide an industrial strength application, there are also decorative elements of metallic flecks, designer-inspired patterns and colors or tints to make it more appealing for residential use.
[Photo courtesy of skitterphoto/pixabay.com]
Epoxy flooring has a durability that surpasses other materials.
If you are familiar with hardwood floors, you will know that wear and tear can occur through water or liquid spills, moving furniture and everyday traffic. These floors need to be refinished in order to return their shine, and for an installation that was already quite an expense, this only adds to the cost of upkeep. Tile floors offer durability that can last for decades, depending on the quality and type of stone or tile placed. The installation costs more, as cutting and grouting add to the labor involved. Tiles can crack or chip if heavy objects are dropped onto them, and they can also be slippery when wet. Carpet is the other popular choice, but despite luxurious look and warmth higher end grades tend to offer, there is more maintenance involved in its upkeep. Vacuuming and preventing spots and stains can get tiresome.
Epoxy floors stand out above the rest.
When compared to other common flooring choices, epoxy stands out as a real winner. Durability is no longer a problem, as it won't get cracked or dented with dropped items or heavy foot traffic. It is easy to clean and resistant to stains and water damage. An epoxy coating is also dirt and dust resistant, giving it a cleaner look but also maintaining a better air quality over time. Affordability and beauty tie for first place in what makes an epoxy floor a great choice.
Studying away from home is one great challenge especially if in your entire life you haven't tried sleeping in places other than your room. However, time will come that there's a need for to move out and learn to live on your own. You can start practicing it by living in a dormitory during your college days. If in case you're lucky enough to secure a dorm room wherein you won't be having any roomies, then you can fully decide on how you would want it to look like. You can place any dorm room wall decor you want and freshen it up with your choice of air freshener. That's the beauty of it. However, if you would be placed in a room of for or two, then you can only just decorate the wall near you.
[Photo courtesy of Pixabay/pexels.com]
Since, going to college is already expensive, make sure to spend your money wisely. Visit some garage sale or scout for decorative few months ahead of time. You can also make use of the some major sale days like the Black Friday sale and similar events.  You can also bring along some stuff from your house like your favorite pillow, bed sheet, study lamp an some other things so that you won't buying anymore. If you would be able to make your dorm room look similar to the one you have at home, then there would be a lesser tendency of feeling homesick an you would be able to adjust easily.
You wouldn't think it but there are a lot of things to consider before you purchase a rug. One of the most common mistakes that people make when buying a rug is going for the cheapest option,  which is why we've put a little step-by-step guide to follow and make sure you make the best choice for both you and your home.
First of all you need to remember that everything looks different in a showroom setting and this includes rugs, which is why you really need to take your time when it comes to choosing the one you want. Consider your options and don't rush into anything, the rugs aren't going to run away and if the retailer offers them; always ask for samples. Samples are great if you have a few different ideas in mind and you can actually take them home with you to see how the rug may fit with your decor.
So what else is there to consider? Well, the simplest of things can make the biggest difference for example, the size of the room that you will be placing the rug. The thing about rugs is that they they can make a room appear smaller than it actually is, so if you are thinking of placing a rug in an already small room then it's probably best to avoid rugs with intricate and busy-looking patterns as well as dark rugs. If you are planning on placing a rug in a smaller room then the same rule applies as does with decorating, lighter colours will make the room appear more spacious and bright.
Another important factor when it comes to choosing your rug is the texture that you opt for. The texture of the rug can add different depths to the room, for example if you chose a pile or shaggy rug then this would make the room feel cosier than your standard modern rugs, which tend to act as more of a feature.
You don't always have to worry about your rug directly matching the decor of your room, one of the trendiest options in the rug world for the last couple of years has been antique statement rugs. You know the kind? They seem to make their way into charity shops quite a lot but in all honesty they look ideal in modern spaces. Go on, be unique and bring something 'stand out' to your room!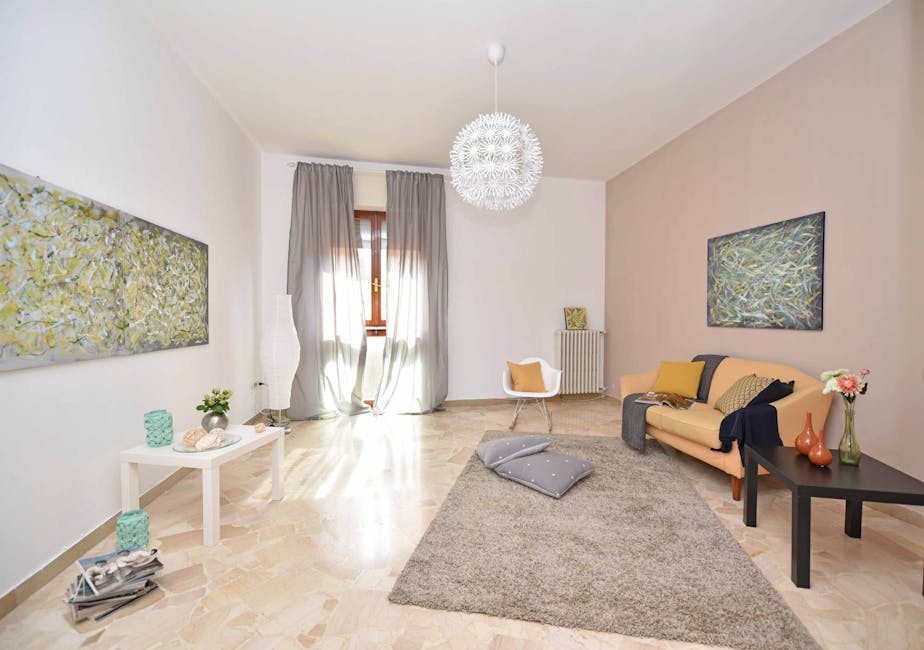 [Photo courtesy of Pixabay/pexels.com]
It's also worth thinking about the kind of home you run in accordance with the rug you choose, for example if you were to purchase a crisp white sheepskin rug it probably wouldn't be best placed in a home with pets and toddlers running about. That being said, it doesn't mean you can't have a nice sheepskin, you just need to make sure everyone knows the rules!
If you do buy a high-quality rug then there is more of a likelihood of it needing to be professionally cleaned, in fact that goes for any rug, especially if it is kept in a high-traffic area. It is advised that you have your rugs cleaned at least once or twice a year by professional cleaners, this prevents the rug becoming unsanitary and can be done on top of regular cleaning on a weekly basis.
So there you have it, just a few pointers to help make the decision of buying a new rug that little bit easier. Take your time to ensure that this rug can be the one you and your family will enjoy for years to come.
We're often asked "how can I make sure my floor is environmentally-friendly?" And although there have been plenty of measures put in place to protect our forests etc many people are still reluctant when it comes to buying solid wood floor. With this in mind it often comes as a shock when we recommend Solid Bamboo Flooring, but in our mind it's one of, if not the most eco-friendly options on the market! So lets go into a little more detail as to why we love it so much..
What is bamboo?
Bamboo is probably best known as being a pandas favourite food as oppose to a flooring material. What you may not know is that bamboo isn't actually wood, instead it comes from the grass family. Although it isn't your stereotypical grass that is found in gardens across the world, in fact it's of a much superior grade! So how is it that a type of grass is strong enough to be made into flooring? Well, once the bamboo is fully mature it acquires characteristics that strongly resemble those of hardwoods. It becomes really durable and can even offer better stability than most real wood floors! The main type of bamboo that can be used for flooring grows in China, it is known as 'Moso Bamboo' and is the most suitable species of bamboo when it comes to flooring. Many people are concerned about the potential damage that the flooring industry could do the pandas' habitat, but the truth is that due to the quick growth-rate of the bamboo there is no real threat and the pandas will remain well fed!
How is bamboo flooring made?
Okay, so it's a pretty tricky process but the end result is impressive. First of all the bamboo needs harvesting, this step alone has it's implications as everything must be kept at the right temperature etc. Once harvested the bamboo is then split into strips that are boiled, this helps to get rid of any remaining bugs and dirt that may have remained on the bamboo. After they've been boiled the strips are heated up which carbonises them. Next it's time to weave the strips together before they are stacked and left to dry for as long as necessary. The strips are then pressed under an extremely heavy weight and dried using intense heat, what this does is fuses the raw materials together resulting in planks! This is when the bamboo starts to resemble hardwood flooring, in fact, you'd struggle to remember it merely started as grass. All that's left to do now is mill the tongue and grooves on to the planks (these are what help you to install the floor), before applying the UV protection, along with the finish and a moisture seal treatment. Once all of the above are done the pieces of bamboo are boxed up and shipped out to some lucky folk!
What makes them so eco-friendly?
First of all, because bamboo is a grass and not a tree it's automatically much more renewable than other flooring materials. For example, instead of having to wait for 25 years for a tree to reach full maturity, bamboo is fully mature and ready to be harvested in about 5 years. What's more is that due to it's regenerating properties, bamboo doesn't need to be replanted once it has been harvested, instead it simply grows back on its own accord. Pretty impressive eh? As stated earlier, bamboo is mainly harvested in China and this is also where it is manufactured, by harvesting and manufacturing the product in the same area it is helping to reduce the carbon foot print. To ensure that the bamboo flooring you buy is really eco-friendly then it's important to check that the company you're purchasing it from have Forest Stewardship Council (FSC) certificate for the flooring itself. The FSC is a global organization who are dedicated to the responsible management of various forests across the world, their aim being to ensure that the harvest of both bamboo and timber allows the population of the said material to be maintained. If you see that a company has this certificate then you can be assured that every company involved in the production of your floor has adhered to the standards as issued by the FSC.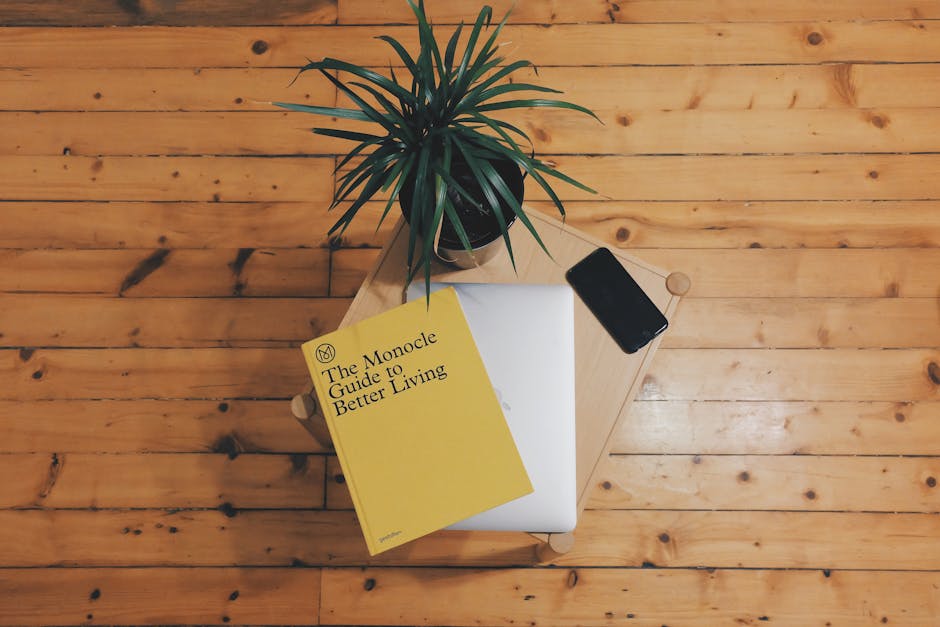 [Photo courtesy of Pixabay/pexels.com]
The pros and cons:
| | |
| --- | --- |
| Pros | Cons |
| Durability – Due to the way that they are manufactured Bamboo floors are often harder and denser than the likes of solid wood floors. What this means is that they are ideal for homes with children and pets as they shouldn't look too worn or scratched after a few years use. | No 'Grades' – Unlike solid wood flooring where there are a range of different grades for the wood, this isn't the case for bamboo flooring. This means that because there is no independent grading system for bamboo flooring retailers may post their own 'reviews' of the product but these would not reflect an independent assessment. |
| Affordability – If you're working towards a budget then bamboo flooring could be a great option for you. The great thing about bamboo flooring is it bears a strong resemblance to solid wood flooring but comes at a margin of the price! | Refinishing – Although it's doubtful that your bamboo flooring will need to be refinished it's worth noting that they can't be re-stained. So if you do intend on sanding the boards after a certain amount of time then it's likely that you'll have to make do with the colour of the exposed board and a clear coat for the top of it. |
| Eco-Friendly – Possibly the main reason that bamboo flooring is so popular, as explained above. | |
| Maintenance – Bamboo floors are just as easy to maintain and clean as any wood floor. As they are already pre-finished it's usually fine to give them a quick sweep on a daily basis and perhaps vacuum once a week? If you'd prefer a deeper clean then using a lightly damp mop will do the trick! | |
Just because you live in a shoe-box sized studio in East London, doesn't mean you can't make the most of the space that you do have.  There are a number of ways to make your small space seem larger, including sticking a million mirrors in there and knocking down partition walls. But no one wants to sleep in the same room as you take a shower and cook your Sunday roast, or live in your very own spooky House of Mirrors! So you might be surprised to hear that rugs – yes, as in small carpets, can be a great solution!
Fussy styles
Most of us think of rugs in homes with lots of clutter- lots of small rugs or a large rug taking up most of the floor space as opposed to clean, neutral floorboards.  But rugs actually enhance the space that you have, and they are not only beautiful but warming and welcoming too – everybody should have at least one in their home!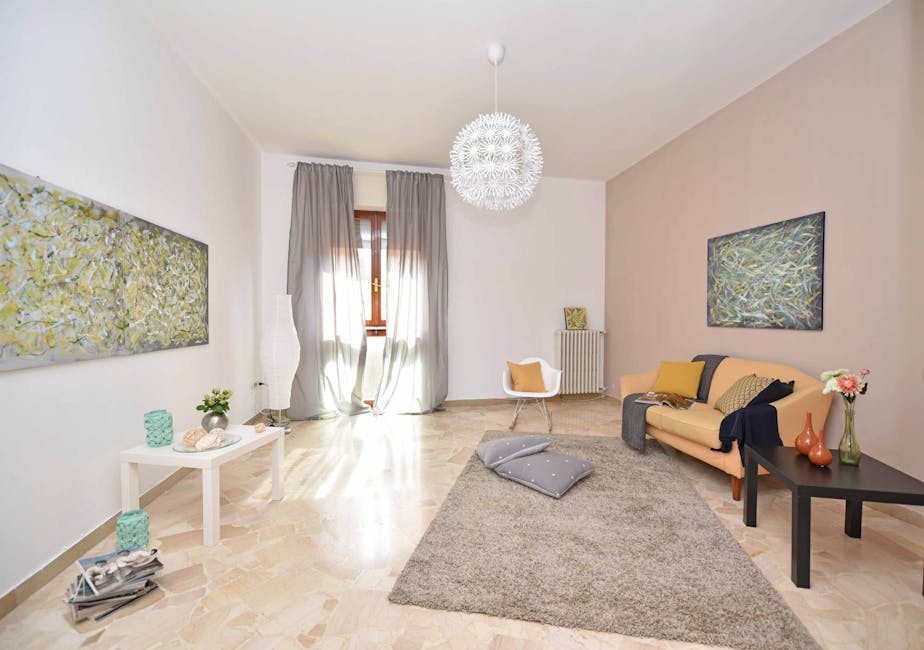 [Photo courtesy of Pixabay/pexels.com]
Bedroom beauties
Rugs in the bedroom should be all about comfort and softness.  Of course, if you have a studio flat then your living space is also your sleeping space, but it's easy to use rugs to define separate areas.  In the area near your bed, a rug which is soft underfoot is great, such as a sheepskin or flokati rug.  These are available in a wide range of colours, from crisp white and fluffy cream to vibrant mauve and hot pink.  Choose your rug to match your existing décor, whether that's Japanese minimalist or vibrant pretty florals.  The moment you step out of bed in the morning onto this soft, beautiful rug you'll know you are going to have a great day!
Living room lovelies
Your living room is where you'll spend most of your time, and in a studio apartment you can use a rug to define this space – try to pick a large rug which extends almost to the edges of the room, or the edges of your living area, for maximum effect.  This will actually help your room to look larger and more spacious.  Opt for clean neutrals or bold brights, but try to keep the pile shallow if you're scrambling for space.  Whilst deep pile leather shag rugs look amazing in large airy lofts, in a small studio they will simply make everything feel more cramped.  Shallow pile polypropylene rugs are not only ideal for small spaces; they are also hardwearing and stain resistant, perfect for clumsy friends who spill glasses of red wine on your floor…
No matter how small your space, a stunning rug can really help to define it, give it style and make it warm and welcoming. There is obviously always the question of budget, and like anything else, the price of rugs can vary hugely. Head to Ikea for a cheap and cheerful option, or get lost in a designer rugs shop for that really special purchase.  Follow the above tips and you will soon benefit from the beauty of rugs in your home.
Your home should be your castle. And as the reigning monarch, you undoubtedly want pristine living conditions. That's hard to achieve on your own, especially in the big cities. Not only is Southern Michigan still battling pollutants from industrial leaders, but over 840,000 residents county-wide track some of that dirt and debris into their homes on a daily basis. Your residence is an investment in time, money, and effort. If you really want your home to maintain or increase its value, sometimes you have to trust a professional carpet cleaner. Believe it or not, professional carpet cleaning is far less of a luxury than a requirement in this day and age. And if you don't believe it, just read on to find out why hiring a pro is so important.
Material Matters
Modern store cleaners and products offer a one-size-fits-all type of cleaning. But not all carpet is the same. Do you know the material and cleaning instructions for your carpet? Is it wool, silk, shag, or a modern blend? Even if it looks similar to your friend's or neighbor's carpet, it may be quite different. A wrong move on your part could lead to a worse situation than you began with. Why take that chance when the pros can easily adjust to the specific needs of your carpet?
[Photo courtesy of kropekk_pl/pixabay.com]
Say Goodbye to Stains
If you have kids, pets, or older carpet, chances are you've adjusted at least one piece of furniture to hide a specific stain. The longer you let that sit, the harder it is to remove. And if you use the wrong cleaners or application, it can spread. Regardless of your stain or issue, chances are the pros have tackled worse. Let them show you how temporary those "permanent" stains really are.
No Standard Equipment Here
Rental and handheld equipment may look impressive, but it often barely cleans any deeper than a high-end vacuum cleaner. Either option simply can't compare to professional grade equivalents. Deep cleaning brushes, special edge cleaning equipment, and an entire team of knowledgeable stain and cleaning masters ensure the best chances of refreshing and reclaiming the beauty of your carpet.
Low Moisture = No Mold
Mold can't grow on dry substances. But it can grow on food or on wet materials. If food or beverages are permitted in or on carpeted areas, chances are you have your share of nasties trapped inside your carpet fibers. You could vacuum daily and still never reach all the spores, dust, and allergens stuck in your carpet. However, professional carpet cleaning has been scientifically proven to remove up to 85% of mold spores and almost 80% of all common household allergens. Why not invest a little to be able to breathe a lot better?
Effort-Free Cleaning (On Your Part Anyway)
Professional carpet cleaning can be scheduled around your needs or even be completed while you're at work. They know all the newest tricks of the trade, and can work with you to ensure all furniture is well protected. Imagine the luxury of coming home after a long day at the office to professionally cleaned carpet right in your home. It's a fraction of the cost of carpet replacement and 100% guaranteed, so why wait another moment to experience your happily ever after?
Contact Nu-Way Carpet Cleaning in Macomb, Michigan, to discuss your carpet cleaning needs today.
Wooden floors, properly finished, retain their allure for many years. Types of wooden floor materials include timber, cork, parquet and bamboo. Eventually, all require rejuvenation at some point. Wood floor sanding and refinishing should only be tackled by experienced professionals to ensure the floor provides many more years of elegant service. When hiring a refinishing team, here are five critical questions that must be asked.
1. What Will Floor Sanding Repair?
To test if a wood floor needs a complete refinish or only cleaning and polishing splash a few beads of water on the floor to see how quickly they soak in. If the floor absorbs the water slowly, then the finish is intact. If they penetrate quickly, the finish is gone and a complete sanding and refinishing is required.
Likewise, if parts of the floor exhibit stains, warping or deep scratches, a complete refinish is needed. Some water stains and scratches deeper than 2 or 3 mm may not be removed by sanding alone. Fillers may be used or parts of the floor replaced if the damage is severe.
[Image not Mine]
Not all wood floors can withstand a complete refinishing process. Flooring material with a thickness of less than ¾ inch may not survive a deep sanding. Some newer wood floor materials are as thin as ¼ inch thick. Tongue and groove floors should also be examined carefully to see if they could be deep sanded. A professional refinishing contractor can determine the proper approach for any wood floor.
2. Do You Use Dust-free Machines?
Older sanding machines generate a tremendous amount of dust from the finish the wood. A professional refinishing contractor employs only dustless technology. Dustless belt sanders, edge sanders and dust containment systems remove 99 percent of the dust before it enters the atmosphere of a home or shop. Plastic curtains are not required, and there are no worries about dust re-settling to spoil a new finish. Even better, there is no time-consuming cleanup of the home environment when the job is finished.
3. Who Is Responsible for the Cleaning up Afterward?
If a floor sanding contractor is using dustless technology, there is little to clean up afterward. Dustless technology is so good that home or shop owners need not remove items from shelving. The dust and other waste materials, such as sanding belts, brushes, disposable gloves, empty cans and so on, should be bagged by the contractor. Typically, they leave these bags behind for the home's regular garbage pickup, but it is not unreasonable to ask them to dispose of the waste for an extra fee.
4. Do You Finish and Polish the Floor After Sanding?
No one should use a contractor who does not handle the entire process of refinishing a wood floor from start to finish. If a contractor only does the sanding, then there may be a gap between when the sanding is completed and the finishing contractor is available. Meanwhile, the home or business is essentially unusable by the occupants or customers.
Refinishing contractors should provide a choice of finishes. Typically, they offer a water-based finish and a solvent-based finish. Either type, if of good quality, should last many years if maintained properly. There are differences to consider however. Water-based polyurethanes are low odor, dry faster but require more coats. Solvent-based finishes have a stronger smell and require more time to dry but require fewer coats. Some people prefer the amber color that solvent-based finishes impart to the wood versus the completely clear finish of water-based polyurethanes.
5. How Long Does the Job Take and Is the Price Fixed?
Most refinishing contractors provide a fixed quote based on the type of floor material, the amount of floor sanding required and the type of finish. A rule of thumb for the length of the job is a day per 30 to 40 square meters of floor. If there are concerns about the accuracy of a fixed quote, then the owner should discuss all the steps of the job in detail with the contractor to see if adjustments can be made. If the owner anticipates making many changes as the job progresses, then it may be better for both parties to agree on an hourly rate in order to avoid delays.
Daniel Johns is an interior design professional. Her recommends Webb Floor Surfacing as the leading Timber Floor Sanding Contractor in Perth, WA.
Hardwood floors are as timeless as they are beautiful. Making the right choice to fit your lifestyle is as important a decision as any home investment. Your new hardwood floor should last you the life of your home. Picking the right one for you has never been harder. Hardwood Bargains is here to make it easier.
COOLER TONES ARE IN!
Easily the most popular trend in hardwoods are the whitewash and greys with that beach cottage feel. If you are looking for that floor to give your home that New England coastal feel, these tones will work perfect for you. They are also go well with the modern, clean looks that are fashionable in urban loft living. As universal as this floor can be, its a style with staying power.
WIDE PLANKED and WIRE BRUSHED
The wider the plank the bigger the canvas. More grain, more variance and more character.  The wide plank is a dominant statement that will fill even the biggest rooms with liveliness.
Wire brushing adds a subtle texture that naturally can only be achieved over years of living on. Add a slight stain color to go with any decor. Never worry about excessive expansion  with Hardwood Bargains engineered core. Our cross ply core will tame any size plank.
Smooth is Back
Nothing looks better than a perfectly sanded floor. Flat edges and ends lend to an elegant look that is both timeless and traditional. With todays milling technology, engineered hardwood has come a long way with the perfect milling needed for a successful, smooth, prefinished hardwood install. The exact milling minimized over wood on square edges.
Ordering Online
When you purchase hardwood from a retail store you will end up paying more. Retail stores act as a middleman. Purchasing products from a distributor then additionally marking it up. When you shop at Hardwood Bargains, you effectively cut out the middleman. We buy directly from the source and pass along the savings  to you.
Guy Ventimiglia is the Sales Manager for Hardwoodbargains.com. He has over 23 years' experience in the flooring industry, and is an industry expert in all types of hardwood flooring. When he isn't working at Hardwoodbargains.com, he is enjoying time with his family skiing and snowboarding.
If there's one thing I could not forget it, that was when I accidentally slip of a public place. My mother and I went to town to use the internet, the shop is in a second floor of an old establishment which is made of hardwood floor including the stairs. I am wearing a clog that time going up is not a problem but going down is such an embarrassment, I slip but because my mother is just in front of me I am not able to slip further but when I step down and I asked her not to walk in front of me I slip up to the bottom and the sound is just so embarrassing that the people inside the internet cafe went out the door and look down what is happening at the stairs, I just laughed to cover up my embarrassment.
Anyway one of the major concerns among property and home owners is accident from slipping. There different forms of anti-slip flooring that could be used in any public buildings, commercial establishments, homes and etc., and this material could be in epoxy floor system, non-slip coating, functional paints and glass flake coating. Using this substances could increase the friction between two surfaces. They also served as protective layer that can prevent your floor from scratches, they are also offer glossy finish to surfaces, odorless and colorless and have fire retardant properties.
Well I think the commercial building where the internet cafe was is not using anti-slip solution and when we went there it looks like it is newly wax or varnished because the floor is very shiny.
Most old houses are made of wood flooring which is good because it can last for a long period of time. They are durable but quite expensive, well it actually depends to the type  of hardwood. There are solid ones which are fully made of hardwood and there are refinishing type which is made of part wooded materials and hardwood. Example of wooded materials are fiberboard or plywood, floor refinishing is the cheap alternative of wood flooring not as durable of the solid hardwood but it can still last for a long time.
[Image from thinkspired.com]
Hardwood floors are very homely and classy compared to tiled and cemented floors. So if you are planning to switch to hardwood flooring you should start browsing online to compare prices, you can find a lot of stores online that offer affordable hardwood flooring refinishing, they also offer installation services.