Browsing Category: "Home and Appliances"
High costs of electricity have already forced many people to rethink their approach to energy consumption. Refrigerators and dishwashers are among the biggest users of electricity in any house. A wide range of green household appliances are able to help you save money on energy consumption and boost your eco-friendliness.
Energy Star rated household appliances will save you about $500 annually. Such household equipment use less energy and water. Even though Energy Star appliances are a bit more expensive, you will appreciate their value on the long run. After all, being earth-friendly doesn't require a lot of effort. You need to adjust your habits a little to make a significant difference. There is no need to grow all your food or get a giant solar pane. There are other ways to be eco-friendly at home.
[Photo courtesy of Skitterphoto/pexels.com]
Green it up!
If your fridge is more than ten years old, it is time to replace it with a greener alternative. Energy Star refrigerators use 15% less electricity due to better insulation and energy efficiency.
You can get a dishwasher and use it only when it is fully loaded. Otherwise, you won't save any water or electricity. If you think that washing the dishes by hand will save some water, you may be mistaken. The new generation of dishwashers uses significantly less water now. Before you decide to make a hasty new purchase, you need to do your research and choose the most energy efficient appliance.
When the time comes to buy a new fridge or a washing machine, don't forget to recycle your old appliances. Most of the household appliances contain chemical materials hazardous for the nature. That is why you need to find a company that utilizes old equipment.
[Photo courtesy of Milly Eaton/pexels.com]
Eco-friendly kitchens
Modern technology uses sustainable materials to create better kitchen appliances. There was no Energy Efficiency ranking fifty years ago because people didn't care much about the environment. Now you can purchase a solar oven for your kitchen and enjoy eco-friendly food every day. A transparent lid of a solar oven allows sun rays to warm it up from the inside. Some solar ovens even collect and store solar energy to increase the cooking temperature. Sun-powered cooking is not as fast as gas cooking, yet the food from a solar stove has more flavor.
Energy efficiency will become a key element of the most appliances sooner than you think. Technological upgrades have already affected the modern cooking industry. Your new eco-friendly appliances should be sturdy and reliable. Nonetheless, you shouldn't forget about your green habits. Green appliances mean green lifestyle and cooking preferences. If you start buying local veggies and fruit from the nearest farmer's market, you will support the local entrepreneurs and spend less money on transportation costs, thus reducing the energy emissions in the atmosphere. Energy Star appliances help you save the planet and reduce the cost of your next electricity bill. If you don't know how to revolutionize your kitchen and turn it into something green and ultra-efficient, check out what specialists from Environmental Data Resources have to offer.
Sometimes, the prices of cable can be a little too absurd, especially when one is grappling with a number of financial hurdles. In the end, they have no option but to fall back on local channels to give them their piece of entertainment and luxury.
This doesn't mean that the quality of their reception should be any less thrilling. In fact, here are some subtle tips that one can use to ensure that despite watching local tv, they can still get superior quality content in their homes!
Check out the whole array of antennas
When it comes to selecting the right antenna for great quality picture being received, there are many factors that come into play. For example, there are both directional, as well as unidirectional antennas.
Furthermore, it's wise to factor in things like the terrain, distance from the broadcast towers, as well as the surroundings that one is located.
Surprisingly, it appears that price also comes into play. How? Well, because of the stiff competition between different antenna manufacturing companies. Antennas of a cheaper price appear to have better quality, perhaps to appeal to the masses?
In fact, thanks to the presence of a return policy, one can even try out different antennas and figure out the one that suits them best.
That being said, if one is looking to purchase their desired antennae, have a look at the most Outdoor Tv Antenna Reviews available.
Get the best height possible for the antenna
The height of one's antenna is one of the most vital factors in getting the best reception.
 This is one of the reasons why antennas mounted outside on the roof tend to perform much better than those located indoors.
That being said, ensure to get the most vertical distance for the antenna in order to achieve the best results.
Alternatively, if one happens to have an internal antenna, it would be wise to mount it next to a window, or in a room located on a higher floor than the tv.
Point the antenna towards the desired location
Most antennas are normally directional. However, they are also unidirectional antennas, meaning that they need to be pointed in the direction of the broadcast tower.
If that's the case, ensure that the antenna is in the right position. For starters, one can check out the FCC's DTV antenna app to determine the location of the broadcast tower that is being targeted.
After this is done, point the antenna towards the desired location for best results.
Eliminate the presence of interference
Most people are unaware that there could be material between the broadcast towers and the indoor TV antenna that might be degrading the reception.
As a rule of thumb, place the antenna next to a window. If one happens to be living in an apartment building, then it would be wise to place the antenna away from obstructions such as neighboring apartment buildings, the garage, as well as other inconspicuous obstructions like cars.
The kitchen should be an enjoyable space that inspires you to cook. In recent years, the kitchen has developed into a space which is used not only for cooking, but also for eating and entertaining. As we spend more time in the kitchen, it's becoming more important to us that it should be an aesthetically pleasing environment. Creating such a space not only requires a lick of paint and some desirable furniture, but a change to your appliances, too.
Here, we take a look at a few appliances and consider how they can improve your home life.
Washing machine
We used to do our best to keep appliances like the washing machine away from the kitchen. They were large, noisy and unsightly; while their introduction to the home was welcome, we weren't keen to be reminded of them.
Today, it is a different story. Washing machines not only look sleek, but they are far less intrusive than ever before in terms of size, shape and sound. The result is that we can gladly incorporate the machine into our kitchen environment to make life a little easier.

[Photo courtesy of Ela Haney/pexels.com]
Cookers
The kind of cooker you choose for your kitchen is, of course, a matter of personal choice. With so many to choose from, it's now possible to tailor our cookers to our cooking style. This means making decisions on looks, size and power options. If you're unsure of what might suit you, it's worth researching belling cookers to understand what each style of cooker can offer you and your kitchen.
Dishwasher
If you're using your kitchen as a space for entertaining, the last thing you want after dinner is a pile of washing up. Dishwashers can transform a kitchen, allowing us to tidy away the dirty dishes immediately, without that lingering feeling that we've got something to do.
Fridge freezer
One effect of the changing way in which we use our kitchens, is that the rooms are getting bigger. As such, more of us are opting to include large American style fridge freezer combinations into the room. Not only are these stylish, but they can offer us plenty of cooling space, not to mention the host of smart features included on top-of-the-range models.
There are many simple tasks around the home that could be taken care of by modern technology.  You could free up your life to do more enjoyable things and save yourself a lot of time and hassle.  Options like gate automation can make your life so much easier and really improve the functionality of your home.
Automated Timing Switches
Timing switches can be a great way to automate a variety of different devices and gadgets around the home.  You can buy these switches and plug your electrical items straight into them.  You will then be able to program in a schedule of times when you want these appliances to turn on and off.
For example timing switches can be used for electric heaters.  The switches will automatically turn heaters on and off at the programmed times.  This enables you to heat rooms in advance so that they are nice and warm for when you get home.  This will also save you money as the heaters switch off again automatically so you never need to worry about leaving them on wasting energy.
Timing switches can also be used for other tasks like pumps for fish tanks.  You will be able to program when you want the pumps to turn on and off automatically and this saves you a lot of hassle.
Automated Washing Cycles
Many modern washing machines can now offer scheduled programming.  You will be able to load washing machines and then program what time you want them to come on.  This can save a lot of time as you can load the machine the night before and program it to automatically start the next morning.  No more rushing around before work trying to get the washing on!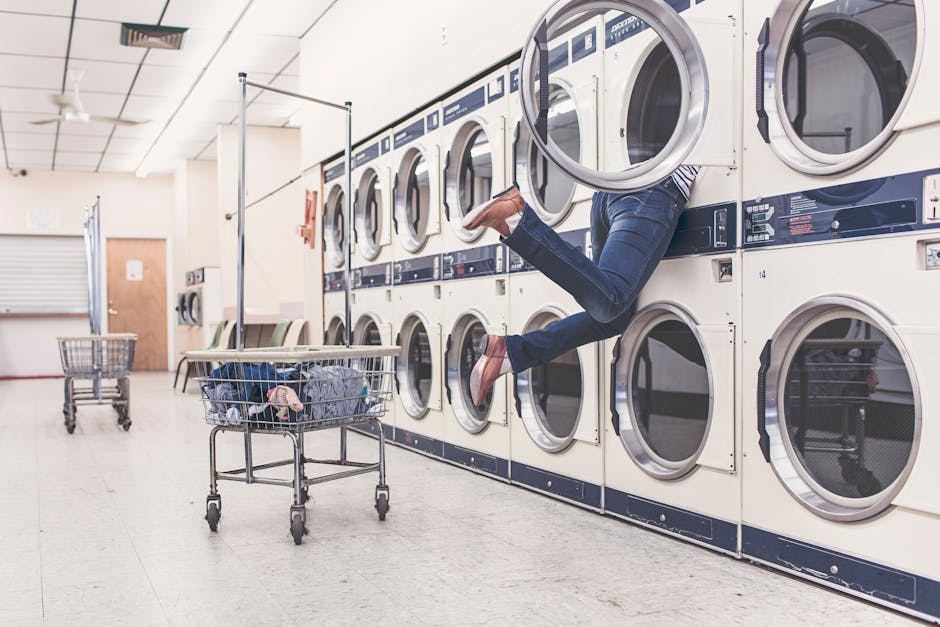 [Photo courtesy of Gratisography/pexels.com]
Automated wash cycles can also save you money as you can program machines to wash at the cheapest tariff point of the day even if you are out and about.
Automated Gates
Gate automation can offer a practical way to secure your home whilst still making it accessible to you and your family.  These gates can also add style to properties and have a certain upmarket appeal.  The great thing about automated gates is that they can be opened remotely.  This means you don't have to get out of your car and open the gates to access your property.  The gates can either be opened by someone inside the property or you can have a wireless controller in your car that triggers the gates to open for you.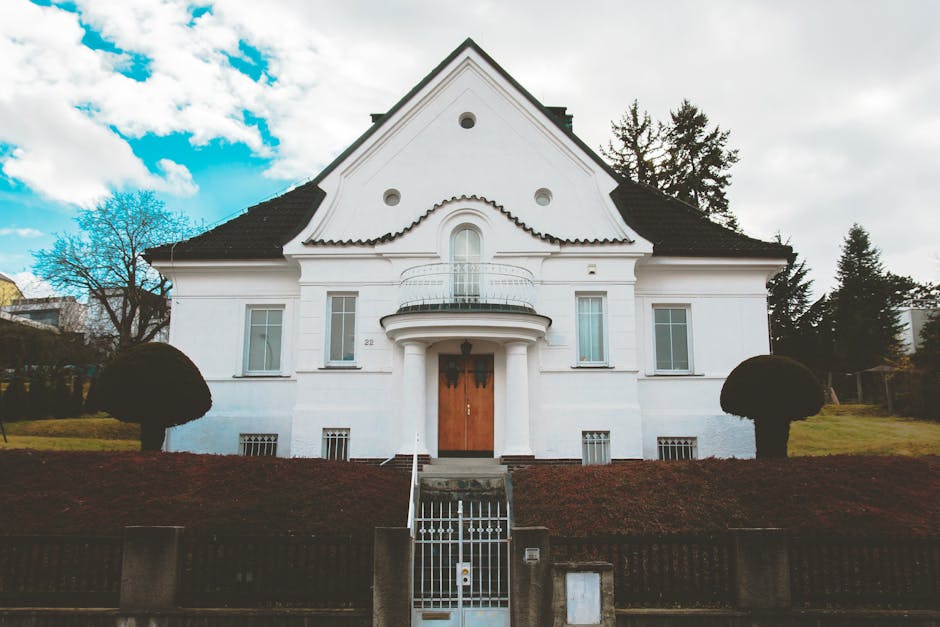 [Photo courtesy of Daniel Frank/pexels.com]
This offers an incredibly convenient way to secure your property without making access difficult for you or your family. There are many benefits to installing automated gates on your property including:
Increased Security – locked gates offer a powerful visible deterrent to opportunistic criminals. Automated gates have specially geared motors that make it very difficult for someone to force them open.  For additional security electromagnetic locks can be installed which power up when the gates are shut.  These exert a very powerful force that makes it incredibly difficult to force gates open.  Automated gates make it much easier for you to control who enters your property.
Increased Convenience – automated gates enable you to enter and leave your property with ease. Some remote controller devices can be used up to 20 metres away.  This means you can ensure the gates slide open just as you approach so that you don't have to stop your car and wait.
Long Lasting and Durable – quality automated gates are available in a range of robust materials. Metal gates offer a tough and lasting option.  You can also get wooden electric gates for those that prefer a more traditional, natural finish.  Whatever material you choose with a little careful maintenance your automated gate should last for many years.
You find a recipe you want to make. The picture is tantalizing, the ingredients are already in your cupboard, and you're going to cook it better than the chef in the picture ever could. Ah, hubris.
It's not uncommon to find a recipe that claims to take 30-40 minutes and emerge from the kitchen, sweaty and irritable, more than hour later. You begin to wonder if the problem is the author – do they exist in a different universe where time runs differently? Or could the problem be… you?
One of the major contributors to the slowing-down process is clutter. We have all come to value our kitchen appliances; not just the cooker (although its importance is obvious) – but we love all those little gadgets we have that make cooking fun and seemingly easy. When thought about it… how many of those gadgets do you actually need? How many do you really use?
Therefore it's necessary to wonder if you're getting the most out of your kitchen or if perhaps a few tweaks to your behavior could improve on perfection.
Do You Really Need Those Gadgets All At Once?
[Photo courtesy of Amigos3D/pixabay.com]
It's important to be harsh with your kitchen appliances – and no, that doesn't mean using lifespan-reducing steel wool to clean them. What it does mean is following a simple rule of necessity. Ask yourself if you really need everything that you have in the room.
Many cooks follow a rule of "one in, one out" when it comes to their gadgets. So, if for example, a meal calls for the use of a blender, then you make space for it in the room by moving out the steamer. If you have to use a bowl mixer, then it's bye-bye blender. They don't have to go into deep storage – just remove them from the work surfaces into cupboards. With more available space to work in, it's easier to see what you have done and – importantly – what you need to do.
Your Kitchen Is For Kitchen Things
[Photo courtesy of stevepb/pixabay.com]
It's not uncommon to come home from work and, before heading to the kitchen, pick up the mail. Once in the kitchen, you put the mail down on the counter, adding to the pile your keys, bag, and your phone.
Just like that, in one mindless moment, your belongings are spreading through the room without your knowledge. If you don't clear these items away quickly, they begin to mount up – and will get in the way when you cook.
Create a space outside the kitchen – a cubby, or a shelf – to deposit items in before entering the kitchen. If you need to use your phone for a recipe, then put it back in a pocket when done rather than abandoning it on the counter.
Use Dead Time For Clean Up
Most meals offer you a certain amount of "dead time" while food is simply cooking and there is nothing for you to do to it. Sure, stir the sauce every few minutes or turn the steaks when one side is done – but mostly, it's hands off for a short while. Use this time to cast an eye over the counters and clear away any mess, spills, or equipment you no longer need. It might sound small and simplistic, but it genuinely is an effective way of preventing things getting on top of you and disrupting the meal!
Everybody seems to be trying to save more and more money these days.  Whether it's trying to stay in for dinner more often, collecting coupons for the grocery store, finding discounts on everyday needs, or generally trying to consume less, saving money is on most households agendas.  One thing that we seem to hear about more often now is saving money on utilities every month.  We've all heard that changing your appliances to more efficient and updated units can greatly decrease your utilities bills.  For many however, finding the money to pay for updated appliances can be out of the question because of their initial cost.  There is another, less expensive way to cut your utility bill.  That of course is lighting your home.  Many people are skeptical though, as it can be hard to really know how much you save when changing your light bulbs to more efficient, updated ones.  Here are some of the facts behind changing your lighting to help you get a grasp on how much you actually will save.
[Photo courtesy of Pexels/pixabay.com]
What type of bulb is the most energy efficient?
We have all grown up and are familiar with the incandescent light bulb.  The energy sucking bulb is now obsolete and even the government is taking steps to eliminate the bulb from American households.  We are more commonly hearing about CFL bulbs and LED lights.  Which ones better?  Energy star rated light bulbs are compared based on how much light a bulb emits based on how much energy it uses.  LED lights are the most energy efficient light bulb emitting 90 to 120 lumens per 1 watt of electricity.  Compare that to the CFL's 40-70 lumens per one watt and it is obvious that the LED is the more efficient bulb.
[Photo courtesy of hzv_westfalen_de/pixabay.com]
Is the Price worth it?
Although LED's are more efficient, they are also more expensive than CFL's and many claim that the light LED's emit is not as comfortable as CFL's.  If this is the case, than CFL's will work just fine and will still save you an average of $5000-$8,000 in a ten year span.  CFL's have a lifespan of roughly ten years so you should plan on replacing them after that span of time.  LED's are going to be about double the price of a CFL bulb.  They are a better investment with time however, given that LED's have a lifespan of 40 to 50 years.  And given the efficiency of an LED, in ten years you should expect to save $10,000-$15,000 in ten years, and after that ten years you won't have to worry about changing your LED light bulbs.
Everyone needs to be able to relax and have fun at home. Having entertainment options you can choose from will keep the whole family entertained and stop anyone getting bored. But if you want to be able to entertain yourself whenever you want, you need to have access to superior entertainment. If you want to improve the entertainment you have available in your home, you need to consider how you can access it and what you use to enjoy it. Improving your sources for entertainment and the tech you use to experience it can make everything more fun and relaxing.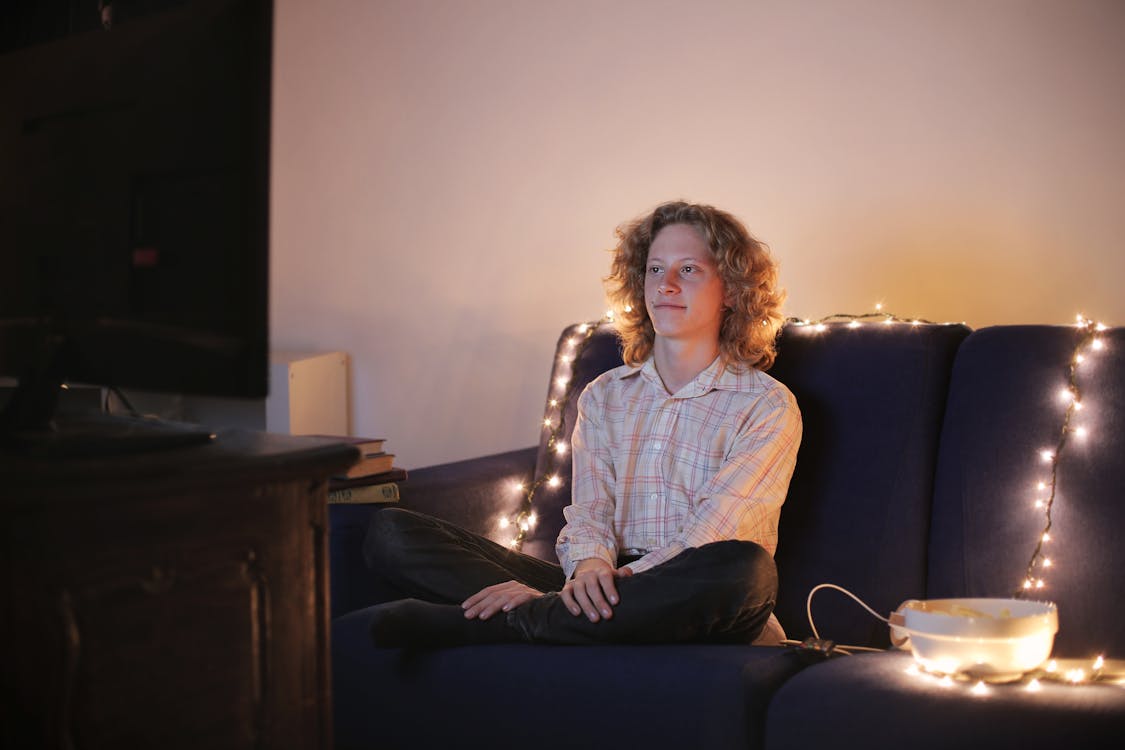 [Photo courtesy of Andrea Piacquadio/pexels.com]]
Update Your Equipment
The first thing you might want to do is change the tech you use to enjoy different forms of entertainment. Your music or movies are often only as good as the equipment you use to play them. If the image or sound quality isn't good, you won't enjoy the experience as much. It might be time for a new TV or a new sound system if you think something isn't fulfilling your needs anymore. If you're a movie fanatic, maybe it's time to finally set up a home theater with a projector. Or if you love music, perhaps you should get a new record player with Bluetooth connectivity and MP3 conversion capability.
Get Access to More Movies and TV
There's nothing worse than scrolling through your movie options and not wanting to watch any of it. When you have so much choice, it shouldn't be difficult to find something enjoyable. But perhaps the answer is to expand the choices you have available. With the right streaming apps, you can access whatever you want, whenever you want. And if you like it, you can buy it to own too. Showbox and other apps like it make it easy to watch movies on mobile devices, so you're not just confined to your home, either. You can find both free and paid resources to use to expand your entertainment collection.
[Photo courtesy of Georgefromistanbul/wikimedia.org]
Improve Your Music Options
You also want to be able to access lots of music and choose whatever you're in the mood for. Listening to whatever you want can be a combination of choosing the right music services and using the right sound system. If you use a service like Spotify, you can find almost any music and listen to it anywhere. Plus, is you use a wireless sound system such as Sonos, you can connect various music sources and control everything with your phone or tablet.
Alter Your Interiors
If you want the ultimate entertainment experience at home, you should think about redesigning some of your space. For example, turning one room into a home theater can involve making the decor darker, getting in some comfortable seating, and choosing some appropriate lighting. Having the perfect environment in which to enjoy your movies or music can improve your experience greatly and change everything forever.
If you want to make sure you're never bored at home, improving your music and movie options can help you to do that.
With the seasons changing, our minds turn to the cost of our energy bills. It's no wonder. Shorter days mean we have the lights on for longer. Cold weather means turning the heating on. Whatever way you look at it, winter can be expensive. What better time of year to turn our attention to long-term ways to cut down on our energy costs? With a little time and effort, it's possible to cut down a significant chunk of the amount we spend on energy. Here's how!
Turn Things Off
I know you hear this all the time, but it works! Turning lights off when you're not in rooms makes a significant difference. Switching appliances off at the plugs is worth the effort too. It's shocking how much of the energy in our homes gets used unnecessarily. It's also worth practicing leniency when turning things on in the first place. Do you need the main light on, or can you settle for a lamp beside you? Do you need the heating, or can you put a jumper on? Taking the time to consider the energy you're using will open your eyes to how much less you could get away with.
[Photo courtesy of TBIT/pixabay.com]
Compare Energy Prices
It's possible you won't have to cut down on anything to save yourself a little money. Comparison sites show how much cheaper your energy could be elsewhere. Energy prices change all the time. It's worth checking comparison sites often to see that you're getting the best deal. You could always use this as a haggling tool with another energy company, too. Find out who they are and what deal they offer, then give them a ring with details of your current provider. Quite often, companies will match or beat your current bills. Don't be afraid of putting yourself out there!
Look at Different Types of Energy
If you've had enough of dealing with the energy giants, why not take matters into your own hands? Producing your energy is excellent for the environment, and for your bank balance. The main choices you have here are solar or wind power. Both have their benefits. If your garden is south facing, solar energy may be the way to go. If not, why not consider a small wind turbine for your home? You could even go for a hybrid model that provides both solar and wind energy to fuel your home. There are installation costs involved with these. They will soon start paying for themselves. Solar panel experts can install the system into your home for you, so you don't need to worry.
Following all these steps together would save you an enormous amount of money. If you can't stretch to all of them, just following one or two will make a significant difference to your energy bill. If the saving itself isn't enough incentive to change, think of the environment. Fossil fuels are bad for the environment in many ways. Cutting down, or finding alternate energy, will make such a difference!
Our home appliances are one of the biggest investments we make in our property. We expect them to work overtime for us, cooling and heating us, helping with our cooking, cleaning our clothes and keeping our food fresh. There are myriad brands out there to choose from, and if budget allows it's better to go middle ground instead of the cheapest. And of course, if money isn't an object, go for the very best with the most advanced technology! But no matter what appliances you choose for your home, you certainly expect them to have a certain amount of longevity to them. However, to keep them in tip-top shape, you also have to do your bit for them. Below are some ideas on how to love your appliances so that they love you back. And if you are looking to buy some technology smart new appliances, have a look at my blog posts on the latest gadgets and gizmos.
Picture source: En.Wikipedia.Org
Ovens
We probably use our ovens on a daily basis even if we're not the domestic goddess we like to think we are. They work so hard for us that we have a duty to look after them too. To keep your oven working at optimum levels, you should make sure you clean your oven every week. Faulty ovens are not only frustrating but expensive too. Every week you should wipe down the inside and outside of your oven to save on the stress of scrubbing it every three months. You should also use baking trays inside the oven below the racks you are cooking on. This can catch any spills and leaks and help reduce the cleaning effort needed. Every two weeks place a bowl of boiling water and in your oven and set at a high temperature for twenty minutes. This will help release dirt and grime much more easily. And consider investing in a professional oven clean once a year.
A/C Units And Boilers
Our A/C units and boilers work hard to cool us down, heat us up and bring us hot water. Air conditioning filter require regular maintenance so always make sure to clean or replace them. Dirty and clogged filters will heavily reduce the unit's efficiency. If you do need to call in a repair company, read AdvantageAirllc.com for details on swift and thorough fixing services. It is better to get your unit repaired before the temperatures start to rise. And in the winter when you are not using you're A/C be sure to cover up your unit to protect it. Boiler breakdown can be extremely expensive so always be sure to take care of this appliance. If you are not using your boiler in the summer still make sure to turn it on once a month for fifteen minutes or so to make sure it is working. Make sure the pressure always remains at 1- 1.5 bar to ensure it is running properly. And if you are worried about the efficiency of your boiler you can call in the professionals to give it a power flush once a year. Always get your boiler serviced when suggested to keep it running efficiently.

[Photo courtesy of Kars Alfrink/flickr.com]

Refrigerators
Keep your refrigerator running like new by always looking after it well. After all, it is doing a great job of keeping your food fresh on a daily basis! Clean the seals every few months with an old toothbrush, baking soda, and water, and make sure that they are airtight. Twice a year pull the refrigerator out and give the coils a good clean to get rid of dust and grime. Clean your fridge once a week to keep it working at peak performance. This will ensure your food is also fresh and hygienic too. Equal parts of white vinegar and water work well as a cleaning solution. And keep half a lemon in your fridge to deodorize smells
Your home should offer you the highest standard of living. It should make life as easy for you as possible and should be somewhere that you look forward to returning to all day long. If your home is pretty basic in terms of appliances, the chances are, you're not as in love with it as you could be. You might not realize it, but there are some gadgets and gizmos that every home needs. To give you a better idea of the things your home is lacking below is a guide to all the essential gadgets and gizmos every house needs.
Digital doorbell and wireless security alarm
Let's start with the entrance to your home. Our homes are our sanctuaries, our private retreats from the world. When they're breached by an intruder, it can leave lifelong emotional scars. The home that you once loved can become a place of terror and fear, leading to you having to sell up and move somewhere new. The impact of your home being broken in can last a lifetime, so it's more than worth investing in top notch security.
One of the best security gadgets is a digital doorbell. This is because when it's pressed, it calls your smartphone and works like a camera. This allows you to see who's outside your home. You can then talk to them to see who they are and what they want, before deciding to let them in. Or, if you're out and about, it's a great tool for seeing who's hanging around your home. As for a wireless alarm system, these are fantastic because they're much harder to disable than traditional, ones. And, can even be linked to your smartphone, alerting you when the alarm has been set off. So that you can choose what steps to take, such as calling the police, for instance.
Instant hot water dispenser & water filtration system
Wouldn't it be nice not to have to wait for the kettle to boil? Well, now you don't have to, as you can opt to install an instant hot water dispenser. This heats water up in just over 30 seconds, so that by the time you've put your teabag in the cup and got the milk out, the water is ready to pour. What could be easier? As well as this option, there are also iKettles that you connect to your smartphone and can boil by using a simple app. These are also a fantastic tool to have in your kitchen. It's just a case of choosing which you'd prefer.
As well as being able to boil water quickly, it's also important that the water you're drinking tastes as good as possible. That's why a water filtering system, like those sold on theberkey.com, is also a must-have gadget. There are lots of makes and models to choose from; it's just a case of selecting one that is right for your home. Look at your options and pick a system that fits into your kitchen well and isn't too large for the space.
Intelligent thermostat
Have you ever wished that your home knew when you needed it to be warm and when you needed it to be cooler? Well, now it can do, that is if you invest in an intelligent thermostat. These thermostat learns when you need your home to be warm, such as early in the morning and late at night, and when you want it to be cooler. They're incredibly effective at keeping your home at just the right temperature. Of course, should it not work exactly as you want it to, you can always control it from a handy app on your smartphone. To learn more about how this would work, check out lifehacker.com.
There are lots of other gadgets and gizmos that you could add to your home to improve it, but these are some of the best ones.