The kitchen is the soul of a house, so it makes sense to start in that room when renovating a home. Many kitchen manufacturers offer prefabricated kitchen designs that are flat-packed and easy to install with some basic preparation and the right tools.
Thanks to our years of experience, we have put together this list of 10 tips that you may not have considered when fitting your first DIY kitchen.
Keep it Simple
At the very least, try to keep the basic layout the same for your new kitchen. This will save a lot of money because you won't need to hire a plumber or electrician to re-route pipes or electricity to new points in the room.
If you are stuck for ideas, there are many websites that feature kitchen remodeling ideas.
Be Prepared
At the bare minimum, you will need the following tools on hand: Drill with drill bits, Hammer, Carpenter's level, Tape measure, Step ladder, Screw driver set, Allen key set.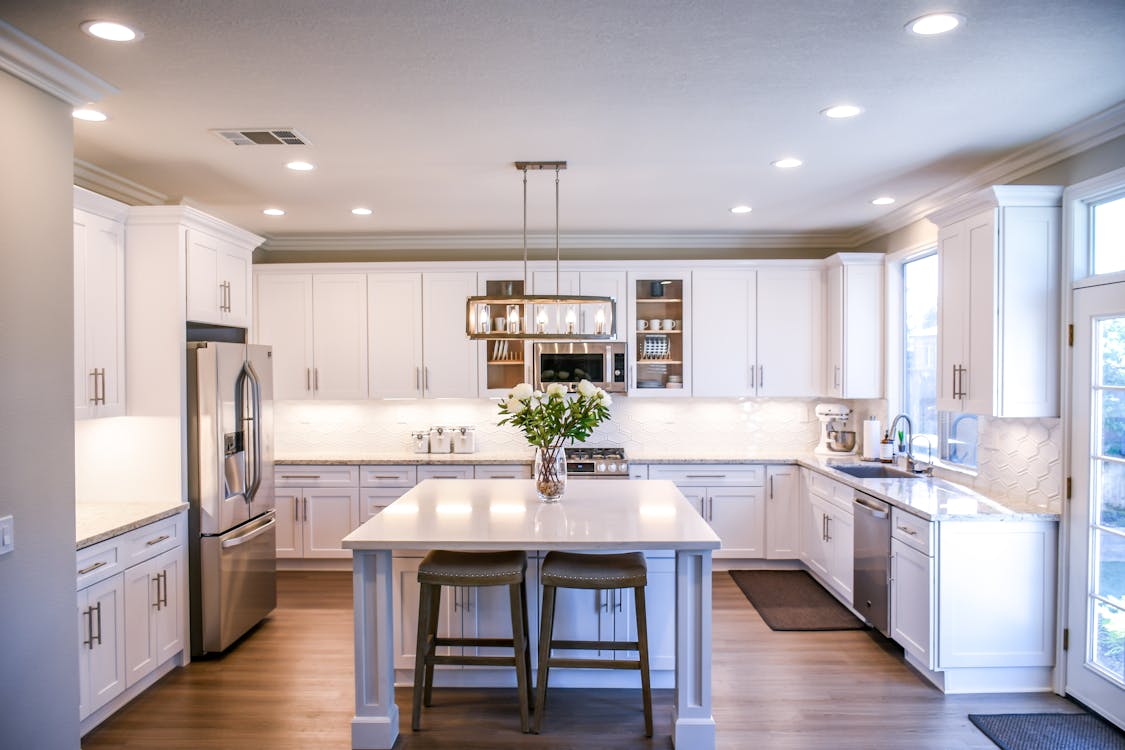 [Photo courtesy of Mark McCammon/pexels.com]
Set Up a Mini Kitchen
Choose another room of the house to set up the bare necessities in a mini kitchen. A hot water jug, microwave and fridge will be enough to get you through until the new kitchen is ready.
Drop Cloths
If you don't have any dedicated drop cloths in your DIY supplies, consider using shower curtains or bedding that may be a little old and need replacing.
Removing the Old Cabinets
Take care when removing the old kitchen fittings. If you damage the walls or floor when tearing out old cabinets, this will add extra work to the project when you need to repair any holes or scrapes.
If it's a larger kitchen and you have flooring to remove as well, consider hiring a man and van to help with the removals. There are many dedicated businesses that specialise in this service.
Choosing Paint
There's nothing better to finish off a new room than a new coat of paint. For kitchens, pick a latex semigloss paint. This is perfect for the kitchen because you will be able to wipe off splashes and food easily.
Prepping the Room
You may be surprised how much grime has built up on the kitchen walls, so make sure to wash the walls and ceiling with a trisodium phosphate based washing solution.
Another tip is to lay down your base coat before fitting any new cabinets, and then painting the top coat carefully after everything is installed.
Locate Wall Studs
Use a wall stud locator to mark out any studs before you start installing the cabinets. Don't rely on the previous layout when hanging cabinets, because the previous installer may have placed them without stud support.
Assembling the Cabinets
Leave any doors or other extra components out of the cabinets until after they have been hung on the wall. This will greatly reduce the weight of the unit and make the fitting much easier.
Many DIY supply stores have online guides with advice and tips for cabinet installation.
Recycle the Old Cabinets
Don't throw out the old cabinets because they can be used in other areas of your home. They make a great storage solution for the garage or tool shed, or you could repaint them and create a play kitchen for a children's cubby house.
If the cabinets are beyond repair, use a man and van rubbish clearance service to take away the mess.