Even with a limited budget, you can still upgrade your home's looks using window treatments and dressings. If you have old windows it would be a good idea to upgrade them with Cleveland Heights windows before adding curtains. Some homeowners are hesitant to look at those cheap kitchen curtains from their local shops in fear that it might still cost them an arm and leg despite the its "cheap" tag. We all know that nothing good comes in cheap nowadays so some also worry about the quality and material of any cheap home decorating items.
Carefully choosing styles and designs of kitchen curtains can lend an elegant touch to your windows. You'd feel really relieved that you found something that looks classy and expensive at very low prices. Check out curtain materials such as sheer net panel curtains which can either be floor length or simple hand on sills. A pop of color can make a major difference to your kitchen's monochrome.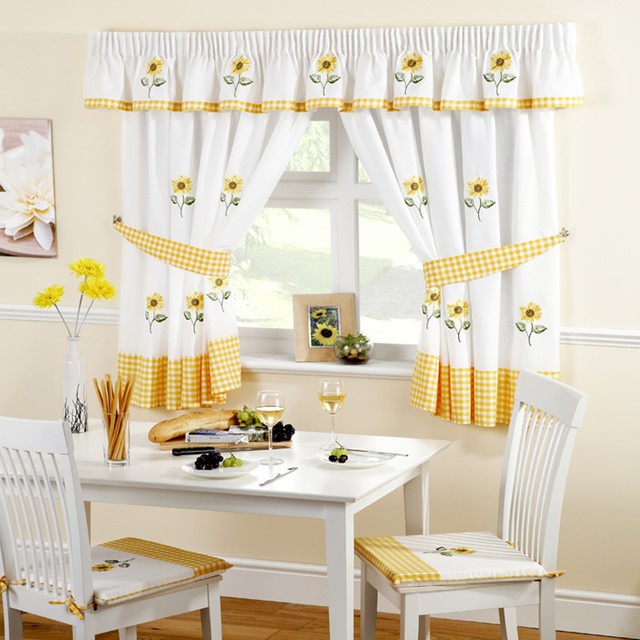 [Image source ebay.co.uk]
Take careful consideration of your kitchens' overall theme and the colors present around you. You may brighten up or tone down your kitchen's ambiance with the different colors and styles that you can find. Bright yellow and red hues will lighten up space and make it appear livelier and more spacious. Blue and green colors have a more soothing and calming effect when used as window treatments. They are more often used in bedroom but more formal kitchen and dining area may also take advantage of its formal air.
Kitchens can sometimes be the most neglected part of the home when it comes to interior decorating. Window treatments are hardly ever changed because of the pricey costs of good quality kitchen curtains. But with a little time and effort, you can find cheap yet good quality kitchen curtains which will not only upgrade your kitchen's ambiance but will also cheer up people coming into this part of the house. Start your search from your local shops and try to check out online shops on your free time. You're bound to find something that suits your needs and your budget within a few more clicks.