Confidence may not be a visible concrete trait in a person but is a very important one in one's personality. It shapes a woman's overall personality in imaginable ways. You could be donning an Armani shirt and whiffing off Gucci's perfume it all goes to vain if you aren't confident. Confident in your skin and style is admirable but not everyone can ace this act.
A shapewear is an important contributor to a person's confidence. The shapewear is a tool that amplifies your confidence by teaching you to look smart and within your skin. It is no exaggeration of the natural beauty, just a contoured look of your body.
The common belief that shapewear is uncomfortable is a myth told many times. It can be chic, attractive, and still be comfortable. This is a possibility that few brands offer. Thanks to Popilush for bringing us such a combination we have been blind about for years now. Learn the art of self-love with a shapewear that is easy on your skin and hard on your style.
Product link: https://www.popilush.com/products/built-in-shapewear-long-sleeve-modal-midi-dress
Here are the top-trending shapewear's by Popilush which return you every penny's worth.
Built-in Shapewear Modal Lounge Dress
The Built-in Shapewear Modal Lounge Dress is the outfit for the dreamiest date night. As the name suggests, it is a body shaper for dress in it which gives your body the desired shape and a hot figure without feeling compressed for air.
Product link: https://www.popilush.com/products/built-in-shapewear-modal-sculpting-dresses
The dress has spaghetti straps, and removable bra straps and hugs your bodycon with a tummy control sculpting. The booty lift gives you the holy finish in its ribbed fabric and qualifies it as a body shaper for the dress. A complete package in which you look like a model in five beautiful colors.
Built-in Shapewear Denim Bodysuit Or Romper Or Mini Dress
This dress beats two birds with one stone with its built-in shapewear and a dapper outfit. The firm fit hugs you like a second skin without breaking the sweat of the one who wears it. Its flexibility with a waist flattening and abdomen tightening design is compelling.
Product link: https://www.popilush.com/products/built-in-shapewear-denim-bodysuit-or-romper-or-mini-dress
The bronze zipper running through the dress and an orange contrast divider are exquisite and detail-oriented. The buttock lifts and overall body contouring is what makes it a complete set for party wear. Plus, it makes a great gift for a body shaper or a dress to give to your friends. Pair it with your shiny black new-high boats for a ramp outfit that steals looks.
Built-in Shapewear Sexy Lace Slip Split Maxi Dress
 The built-in shapewear sexy lace slip split maxi dress is a bodysuit with deep v neck. It is a classic and beautiful white dress with a lace neck detailing and spaghetti straps. The dress comes with removable pads and a contouring breast design.
Product link: https://www.popilush.com/products/built-in-shapewear-sexy-lace-slip-split-maxi-dress
The bodysuit with a deep v-neck allows you to adorn your neck with beautiful jewelry. The plain white canvas allows you maximum ability to be styled with accessories. It also has built-in faja shorts and a piece of breathable fabric.
Wear these chic outfits that amplify your confidence with their comfort and support that never ends even in your fashion moments. Don't forget to ootd these on your Instagram stories because these are so worth it!
Roof terraces are becoming increasingly popular, mainly due to their many advantages. These roofs are visually appealing, increase social cohesion, and, most importantly, offer a range of different ecological benefits. It is an opportunity for new ecosystems to develop and thrive, it reduces pollution and it helps people to lower their carbon footprint through the insulating properties. Nowhere is the need to be eco-friendly more acute than in large cities such as London. Although various efforts and initiatives have been put in place to lower air pollution and smog, more needs to be done. The following London roof terrace examples are incredibly important in terms of achieving those eco benefits so desperately needed in high-pollution areas.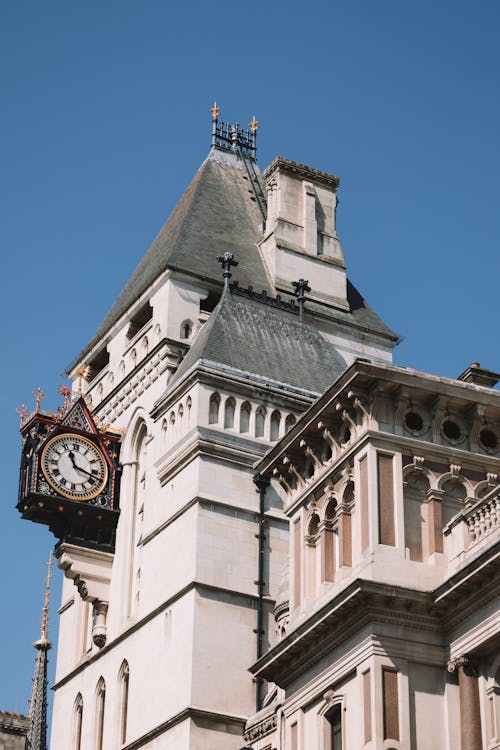 [Photo courtesy of Joaquin Carfagna/pexels.com]
London Roof Terrace Examples
1 Poultry, which is found near Bank Junction. The building itself is reasonably new, having been completed in 1998. The roof of 1 Poultry houses a restaurant and a highly intensive green roof. Various beds are included in the design, which contains shrubs and trees. Furthermore, there is a stunning pergola covered in wisteria and grapes. Crab apples have also been planted in the garden. The roof also has a grass area surrounded by clipped hedges.
107 Cheapside, which is in the same district as 1 Poultry, has taken a slightly more simplistic, smaller approach. Rather than having an accessible roof that can be enjoy by guests, it has installed a sedum blanket on the main roof for insulation purposes. Furthermore, at two lower levels, a range of planters have been installed.
10 Queen Street Place is another great London roof terrace example. This building is near Cannon Street Station, an area notorious for pollution. On the fourth floor, it has a very large roof area with views of St Paul's cathedral. It has an intensive green roof that has been made to look like a park. It has substrates, planters, grass, timber surfaces and more. It is a wonderful place to relax and enjoy the views of London.
150 Cheapside is at the foreside of St Paul's, and the balcony of the Stone Gallery actually overlooks the property. It has a very large sedum area and minimal plant equipment. It also has photovoltaic systems for added eco benefits. Furthermore, there is space for planters at a lower level, which is also used for entertainment.
201 Bishopgate, which is in the east part of the City of London. It is a brand new building that features not just a green roof, but also a green wall. It uses a mixture of Boston ivy and native ivy. The particular focus for this building was on biodiversity.
These are just a few of the many examples of green roofs in London. It adequately demonstrates how much can be achieved with limited space and how important these developments are in terms of creating clean living solutions. Pollution in London is incredibly high, and these roofs and walls have the ability to significantly reduce that.
Even though a lot of homeowners focus on refining and redesigning the interior of their houses in order to keep the property value high and to keep up with changing trends in the world of interior design, the truth is that you should never neglect the exterior of your house either. After all, this is the first impression you make on people, as it's the first thing they encounter about your home. An unkempt property may make someone think that you don't really care about your house, and they'll also assume that the inside of the house must look just as bad.
Thankfully, there are plenty of easy ways to maintain the look of the exterior of your home. Continue reading for a few solutions you can implement to spruce it up.
Add Pavers Instead of Concrete
Concrete driveways are unattractive and they can even crack and begin to look even worse over time. As a result, many homeowners are now transforming their concrete walkways, driveways, and backyard patios with attractive pavers that come in a variety of colours and shapes. These blocks are set down into the ground and provide a long-lasting option that will add colour to the exterior of your home and make it look clean and modern. Be sure to properly maintain your pavers with sealer so they'll withstand the elements and continue to look like new for years to come.
Add a Bright Front Door
You can take the door that's currently on the front of your home and repaint it, or instead purchase a brand new one, but making it a bright door is a great way to spruce up the exterior appearance of your home and make it even more welcoming than before. Go with a bright colour, such as yellow or turquoise, to really stand out and make your home appear fun and clean.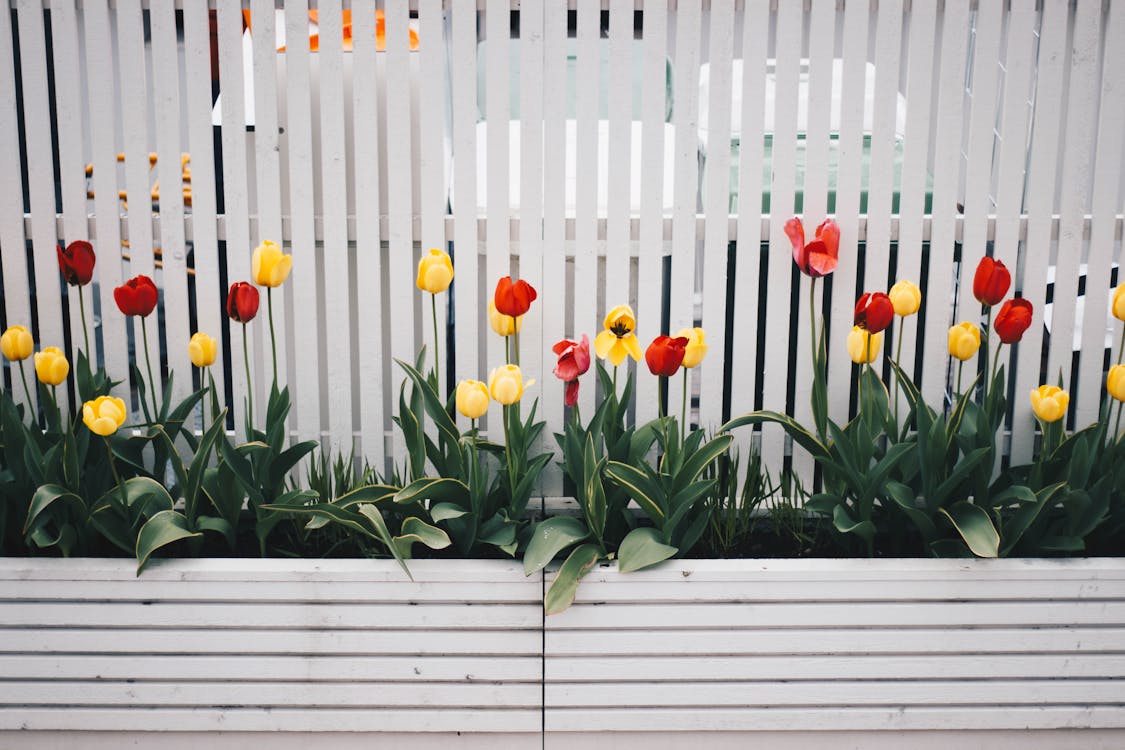 [Photo courtesy of Kristina Paukshtite /pexels.com]
Add a Fence and Flowers
A white picket fence is a great way to instantly add curb appeal to your home. But planting colourful and fragrant flowers and vines along the edge of the fence will add even more beauty to it and make your lawn even more inviting. Plus, you will get to see these plants as they change from one season to the next.
Reinvent Your Siding
If the siding on your house is beginning to look aged and dirty, you do not necessarily need to completely replace it, which can be a costly renovation that you may not have the budget for. Instead, there are many DIY approaches that you can take to repair your siding, whether you have aluminum, vinyl, or any other type of siding. This simple step can be the most dramatic change you make to your home's exterior, and it can make it look years younger.
Updating the exterior of your home should not be something that you neglect. Instead, take the time to keep your property clean and looking beautiful. This will make your home more welcoming and more valuable.
Farming and gardening is my father's past time,  he is semi-retired in doing construction and carpentry jobs hence it was already too heavy and too delicate for him to climb in higher elevation especially he was already in maintenance because of his high blood pressure. Semi-retired because there are times his old employer asked him at times to fix small things in their house.
Growing pineapples requires significant time and commitment, it can be an exciting home gardening and culinary project. It is almost pineapple season and my father has some pineapple plants, he already harvested twice and don't think too much about the harvest, because there were only two pineapple heads each harvest (hahaha), my father harvested them earlier before the thieves could harvest them.
The first harvest, we ate the big one and the smaller one was given away, while the second harvest both the pineapples were given away.  My father's pineapple started from from few plants, and they multiply after my father planted the pineapple crown, as you can see above one crown was already taken away from the fruit and it will be ready for planting, all you have to do is plant it into the soil.
Home makeovers can be costly, but it is possible to make your home more appealing without splashing out a premium. How can you achieve this?
Throw out the clutter
This is a totally free way to make the space in your home look more inviting and presentable. All you have to do is throw away the junk and donate anything in your home that is no longer useful to you right now; or in the foreseeable.  Why keep that old typewriter you've not used in a decade? Do you really need to keep the hundreds of CDs stacked up in the corner? What of old, worn out toys? You will be surprised how much space you can free up by doing this.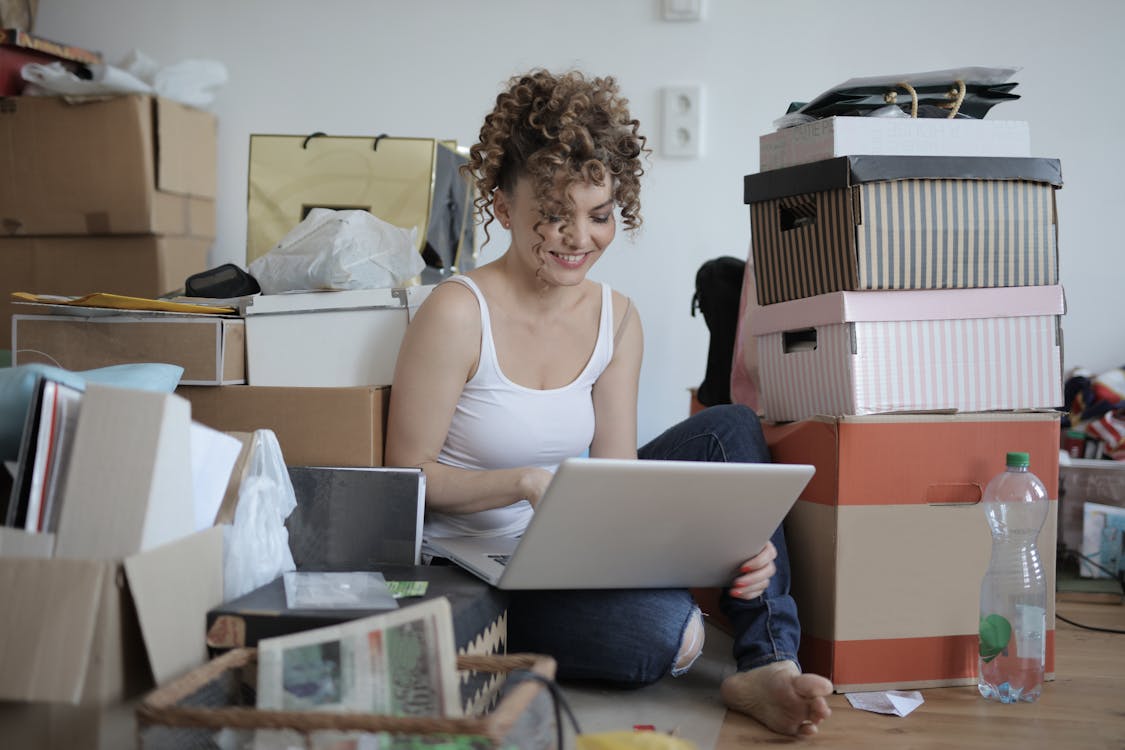 [Photo courtesy of Andrea Piacquadio/pexels.com]
Refinish your mismatched furniture
Mismatched furniture is guaranteed to make your home look disorganised.  If you have all-black furniture and a couple of blue wooden pieces around, you can even things out by painting the wood pieces black as well.  Most of the time, the colour combination you feel great about may actually be upstaging the aesthetic balance of the space.  Primer Magazine has a great piece on dealing with mismatched furniture. The piece is aimed at young men, but the ideas can be implemented by anyone.
Bring in some nature
Go to any public park near you and get some pine cones you can put in a bowl. If there are no woods around you, simply pick a few pine branches anywhere and put them in a jar or vase.  If you still can't find any, head off to B&Q, or any shop selling house plants, and buy a couple. The plants will not just give your home a beautiful relaxing ambiance, they can also improve the air quality.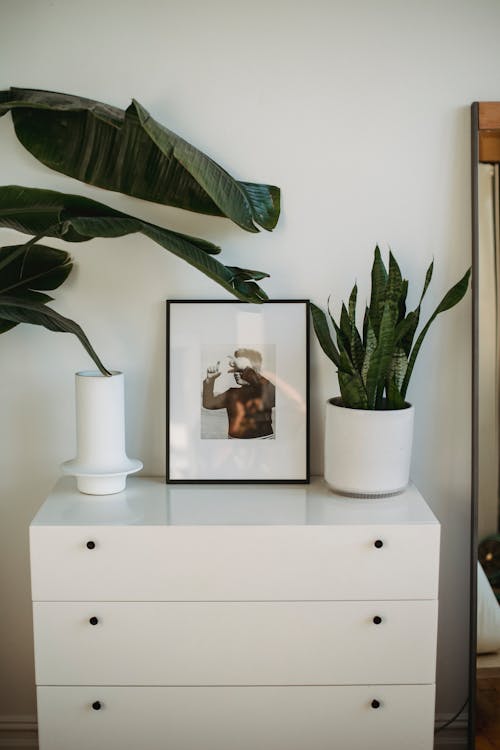 [Photo courtesy of Samson Katt/pexels.com]
Similarly, look for beautiful rocks that can be placed strategically around the house. Instead of having broken chairs as door stops, interesting rocks will make more aesthetically appealing alternatives.
Remove decaying hardware
Replacing that wooden shelf that is already bent to the side with a lovely but simply constructed steel shelf can instantly lift the mood around the space.  A bent shelf paints an uncomfortable picture- bad Feng Shui no doubt too. A good steel shelf can be bought for relatively little, and will not just beautify your home, it will comfortably carry the weight that has bent over your old wooden shelf.  Apart from the shelf, look around to see any other hardware that needs replacing. Picture frames, wine racks, etc. are the major suspects.
Loft Conversion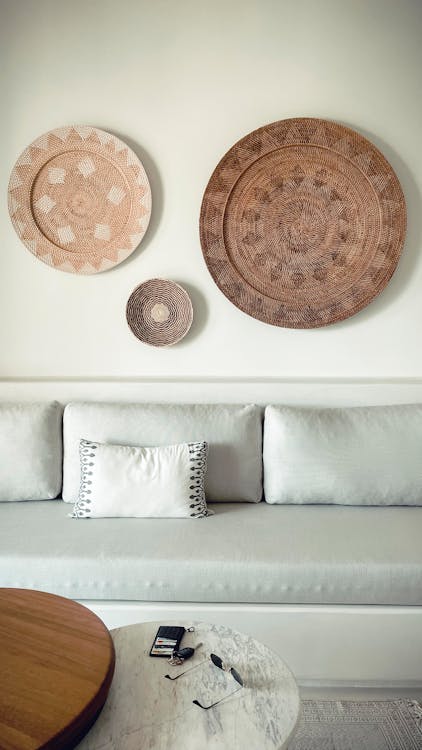 [Photo courtesy of Efecan Efe/pexels.com]
You might be surprised how affordable a loft conversion may be. You may need to reinforce with steel from a company like cannonsteelsltd.co.uk but overall the price should be very reasonable, especially considering the increase in home value you achieve through the process. So this really isn't a cheap process but is certainly one that can be great value because of the appreciation you receive in your house value. Give your guests a room of their own, nay a floor of their own, is a wonderful way to make them feel at home. Just make sure you don't put all the clutter from the loft downstairs.
Reorder the space
Consider moving some of your big items to new positions. You'll be surprised how much difference you can make just by rearranging your living space. A good tip is to put items of a specific colour together. This clustering can develop a theme to a specific area. For instance, you can have your blue books on one part of the shelf and the red ones on the other part. Grouping items by theme or colour will help you achieve a unified look free of charge. Just make sure that you don't create too many themes to a single room, or you pull everything together with an individual theme. Nothing looks messier than a room that is disjointed and without flow. You can get some great ideas for theming your living space on pinterest.
With these tips, you can quickly enhance the appeal of your home without spending too much money.
Home makeovers can be costly, but it is possible to make your home more appealing without splashing out a lot of money. How? Well, all you need to do is to declutter, mix-matched your furniture at home, bring the nature and  reorganized everything. The other day, I did some decluttering at home and throwing  things I don't need anymore like old shoes, frames, toys and books.  To see more space at home was so fulfilling, but just like any other task, it was quite tiring and as expected I rested after  it.
People play games for all kinds of reasons – from a bit of relaxation away from "reality" to a social experience playing with or against their mates, while others play professionally or to win a bit of cash, depending on the nature of the game and their own ability of course and because it was quite tiring to declutter, I relax and entertained myself by playing money games,  I have learned about them through my officemates and I was lured by their winnings.
It was good at first try, I won a large amount of money in an accidental spin and I was able to buy a laptop. Then it became addicting, but as the day goes by I am losing than winning and with this I look for new alternative games I can play to entertain myself after a tiring day and that's where I found about educational money games online.
Mortgagecalculator. org has a variety of engaging and educational money games that can help users to be  money smarts and to practice their financial decision-making using real-world scenarios.
Anyway, here are the games I had fun playing that you might love as well:
Farm Factory
Growing up in the province means being surrounded by field and trees, I grow up that my family is raising pigs, chickens and ducks and having a garden at home , so planting and harvesting was one of the thing I enjoyed the most and since I would like to experience running a farm, Farm Factory caught my interest, it is an idle clicker farming game where you add livestock to a farm and upgrade the farm to earn as much as you can in 5 minutes.
Grocery Cashier
It has been my long dream to own a grocery store in town, so I tried playing  Grocery Cashier which  actually design for younger children to practice their math skills in addition and subtraction along with the familiarity with the value of money, by operating a virtual cash register.
In this game, each customer represents another level of the game, at first I didn't realize that as you play longer the number of items you ring up increases while the time limit for each customer decreases. It was fun, but I had a problem giving change because I always forgot the total amount of items I sold, had a problem too on customers paying through gift certificates, because I wasn't aware that if the customer pays via gift certificates, you will only enter the amount of the gift certificate and the minus sign and you will not make change to this customers.
Stocks
Investing in stock market always fascinates me, it was been my long plan and dream to learn the trade, but me having no time and spending my money on other important things stopped me from joining and learning,  I tried playing Stocks to give me an idea how trading works and how fast the stock changes.
The game was fun, but you need to be quick witted and move your hand faster because the stock prices were fast moving, and it was hard to capture when the price increases.  The player was given $500 to start with and play across 30 days, with a goal of liquidating their shares and earning as much profit as they can in a month.
Landlords and property owners are sometimes under local or state obligation to provide tenants with locked mailboxes, depending on the particular property. Indoor apartment complexes as well as outdoor complexes with cluster mailboxes almost always require individual locks. However, even if it's not law in your state or your property doesn't require, it's still worth considering buying locking mailboxes for preventative reasons.
ID Theft
ID theft has become one of the most frequently occurring white-collar crimes in recent years. Many people know shopping online is a risk, but not many people consider leaving their mail in their mailbox for even just a few hours is a risk, too – but ID theft is older than the Internet. An ID thief only needs to see a piece of mail addressed to a name at that address and he has all he needs.
If a tenant discovers her identity was stolen because her mail was delivered while she was at work and wasn't able to collect it until hours later, there's a possibility she'll sue the landlord for failure to protect her identity. Better to be proactive — and offer the additional mail protection.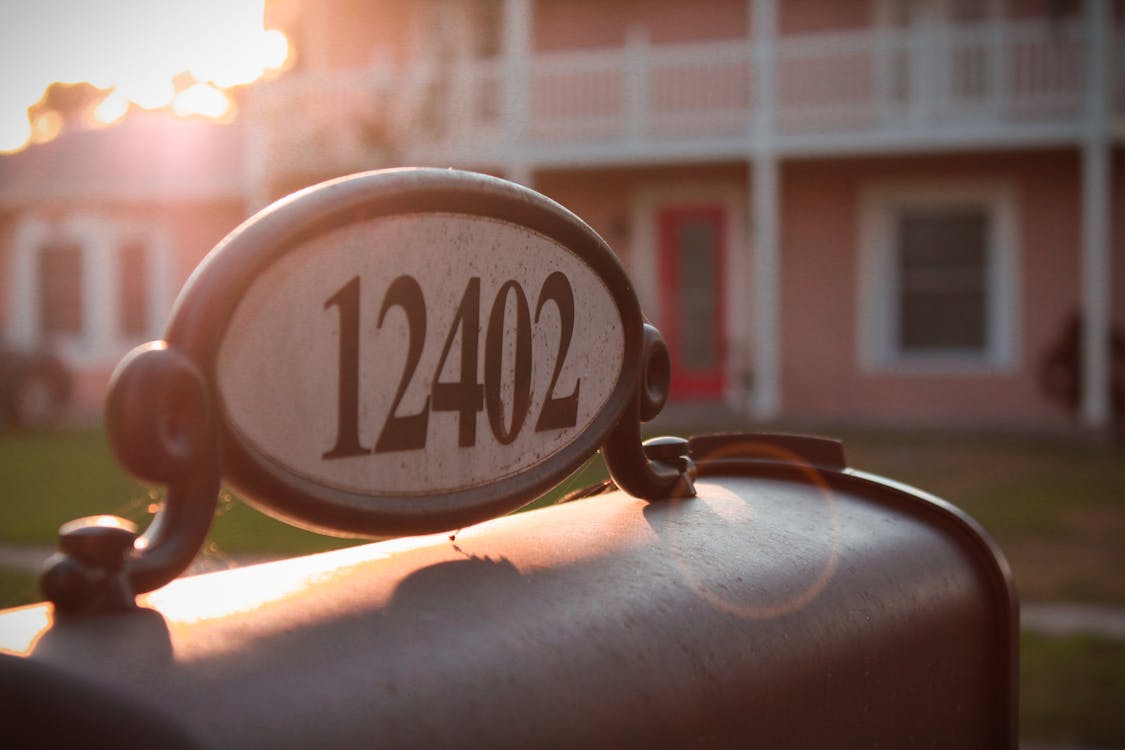 [Photo courtesy Sean Patrick/pexels.com]
Vacation Risk
When tenants go on vacation, not only are their IDs at risk if they let mail accumulate in an unlocked box, but their house is more likely to be broken into if watching thieves use the accumulating mail to figure out no one's been home for a while. Rather than making your tenants arrange cumbersome mail holds or have someone they know pick up the mail every day, used locked mailboxes. The mail carrier can slide new mail through a slot, but no one can see that older mail is still in the box.
A ransacked home isn't just a pain for your tenant, remember; as property owner, your name is on the insurance policy and you'll have to file the claim. If you have a deductible, you'll be responsible for it.
Mail Theft
Even if a thief doesn't want to go through the hassle of stealing an identity, mail is still an attractive, low-risk theft target because it contains checks, gift cards and other valuables. Items that are clearly birthday, holiday or anniversary cards prove especially tempting as do small packages, bank statements, paychecks and other official-looking forms of payment. Even a credit card statement may have the full credit card number on it, which is enough for a thief to start charging items to your tenant.
A locked box protects all of your tenant's mail. Even if a thief is someone with inside information about the tenant — for example, an acquaintance she knows on a social media page who sees it's her birthday and who expects to find checks, gift cards and cash in her mail around that time — there's no way for the thief to get into the mail.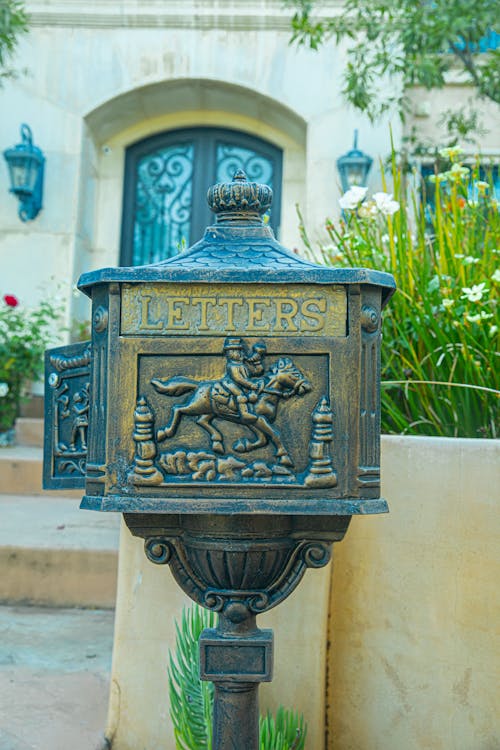 [Photo courtesy Ekaterina Belinskaya/pexels.com]
Neighborhood Safety
As the MontClair Safety & Improvement Council in California explains, the more boxes locked in a neighborhood, the more crime is discouraged in the area. Whether you own one property in a neighborhood or several of them, if you need to find a new tenant, highlighting the low crime rate in the neighborhood can help you attract more prospective renters. Discuss the possibility of adding locked mailboxes to other properties in the neighborhood with those property owners with the goal of increasing overall safety.
As a property owner, you have a legal obligation to do what you can to protect your tenant's belongings. While you're not liable if the tenant chooses to leave his front door unlocked, as owner of the property, you're the only one who can make decisions about installing a new mailbox. Choose the locked variety, both to protect your tenant and to protect yourself from liability. Discuss the change with your current tenant or make the change before a new tenant moves in.
In today's world, it is not uncommon for multiple members of a household to keep busy careers, volunteer positions, or even multiple jobs. More and more, even high school kids are saving up for university or earning some spending money by taking after-school and weekend jobs, and while that's great for their character, it means households can be pretty crunched when it comes to chores. With both partners working, sometimes your cleaning can fall by the wayside, or the bulk of the cleaning responsibilities falls to one partner, creating an unequal balance. This can lead to building up resentment, exhaustion, and other problems that don't need to get in the way of a happy home life. However, there is an easy solution to this problem, and that comes in the form of a professional housekeeper. Hiring someone trustworthy to clean the house while everyone is away can be a difficult task, but fortunately, there are services out there that simplify the process. Below are some important things to look for when you go online to find a housekeeper.
Targeted Search
The service you use should provide a targeted search where clients and families can narrow down their specific criteria. Maybe a family only wants a housekeeper once a month, maybe they only want the most difficult chores done, like cleaning the carpet or the curtains, or maybe they want someone who arrives regularly to do basic cleanups like the dishes and the bathroom. A good online service will have multiple options available that can be tailored to a client's specific needs, narrowing down your search from the get-go.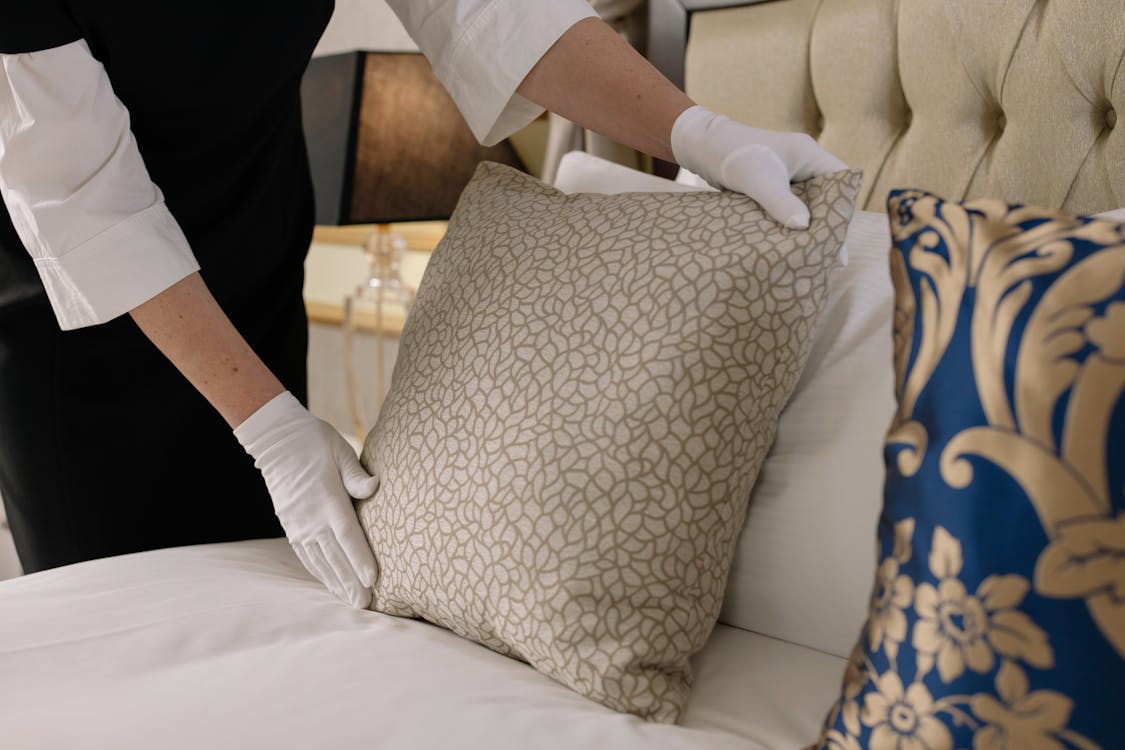 [Photo courtesy of cottonbro studio/pexels.com]
Notes on User Profiles
Online community boards should provide the client with a straightforward feature to attach their own personal notes to a profile, helping them save time by storing all of their notes from interviews and follow ups with their profile. Too many services that don't allow this simple feature will leave you scratching your head trying to remember which notes apply to which profile when you go to follow up to contact someone for the job. You won't have to worry about mixing up candidates or confusing your notes with must-have features like this one.
Favorite Lists
Another feature that makes sorting potential hires even easier is creating favorite lists, available on Housekeeper.com. If you've ever wished you could save the profiles of your top candidates to call in case your go-to professional is unavailable, favorite lists will quickly become your new favorite feature. Finding a great cleaning professional can take some time, and clients should be able to bookmark candidates that would potentially be a good fit so that they can come back to the website later without having to search for those individuals again. It's one of the ways that newer, tailor-made online services like housekeeper.com are making it easier to find help.
Customer Support
Another feature to watch for is a strong customer service: any quality online platform should have customer service numbers and contacts available to users so that you know you can use their service confidently and securely.
Identity Protected Phone Calls
Another great featured, another offered by Housekeeper.com, is identity protected phone calls, which means that your phone number is hidden when you contact a potential hire for a phone interview, meaning your contact information is protected until you've decided who to hire. There are a dozen other tips to consider when you're hiring a housekeeper, but these are some of the things that can save you a lot of time and headaches in your search.
Taking care of your home has always been a lot of hard work, but a new way of managing the security on your property is through the use of smart phones. People often want a fast way of making sure that all of the locks in the home are secure at once, rather than having to go around last thing at night and check them. They also want to get rid of that lurking worry, "Did I lock the door before I left?" which causes so much anxiety. With a simple application on a smartphone, home owners can now lock their doors using their phone, and be reassured about security.
The smartphone lock is based upon the same technology that has allowed phone users to monitor central heating, or turn on AC units before they arrive at a location. If you have an internet connection at home, and a small amount of money to invest, then you could put this technology to work on your door, securing it properly. In order to start the process, you will need to purchase a technology device which will fit onto the door lock. There are a variety of devices, and choosing the right one needs to be discussed with a professional locksmith.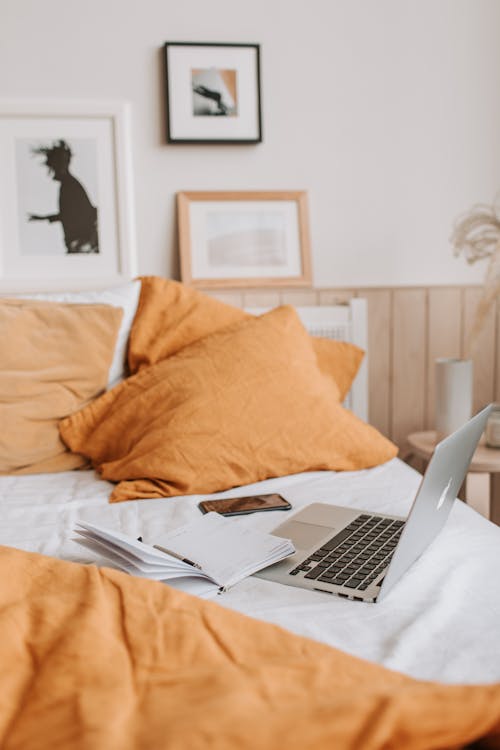 [Photo courtesy of Vlada Karpovich/pexels.com]
Once the device has been purchased, it can then be fitted onto the door, and connected to your internet network. This allows you to set up the device, and connect it to your smart phone. This is done by downloading an app supplied by the company. With the app on your phone, you can then start to control the security of your home. Some phone apps are particularly useful for those who are concerned about locking doors, as they have the ability to identify whether doors are locked or unlocked, and it is possible to connect, or disconnect, a security device from the keypad on the lock, saving you time and effort.
There have been some concerns raised about the possibility of hackers getting into the home. This has been dealt with by the companies supplying the apps and other technology. Often the devices now come with a set password, and there are additional security features which ensure that the software program is not bypassed by others. Users who are worried about the possible implications of poor security should consult with the manufacturers of their security systems.
The technology which you will be using to control the locks around your home could also benefit you in other ways. Thermostat and lighting control can ensure that your home is warm and well-lit before you step through the door. Customers using one application, such as security, will be able to add the additional elements onto the same phone, allowing you to control all aspects of your home using your smart phone. This is an important advance for anyone looking to use their phone in a more constructive manner, and will also ensure that your home is fully protected.
Backyard gardening has been a long practice at home, I grow up with it and our home garden became one of my play ground growing up as my parents tasked me to water our vegetables in the garden every afternoon. The garden supplies us fresh fruits and vegetables, yes it saves us buying from the local market.
Today, there is no more space to do backyard gardening so my family opted in planting vegetables and fruit bearing shrubs in plant bags, used cans and pots.  We have planted eggplants, chili peppers and even strawberries in plant bags, it has been two years since our family grow strawberries at home, the strawberries usually bear fruit during summer months specifically April, but this year as early as February the strawberries had fruit already to my friends amazement when I uploaded a few photos of them in Facebook.
Growing strawberries at home can be incredibly fun and rewarding, they are among the only fruits that suitable to grow in small spaces as they don't grow that much, you can even plant them in window planters, or plant bags and pots like what we do at home. Homegrown  strawberries taste better than those we can find in grocery stores —they're simply delicious.
There are few ways to plant and grow strawberries, our strawberry at home we plant them through runners. My mother was given one strawberry plant by neighbor friend and from there, we have collected runner and replant them to plant bags and pots, until we have already have a lot of strawberry plants at home, my mother also handed few strawberry plants to neighbors and relatives for them to grow.
How about you, what do you grow at home?