Most homeowners spend around $7,000 to $10,000 on each big renovation project. Over half of them will have to increase their budget to take account of issues related to poor planning. In short, we are a nation of renovators, and we love to improve the house. As a result, it is easy to define which are the first rooms to be renovated inside a home. Homeowners focus their attention on the first rooms that show signs of use, being the bathroom and the kitchen. Kitchen renovation projects are often expensive because they require to buy new appliances. There is no way around the expense, unfortunately. However, when it comes to the bathroom, while most projects remain expensive, the costs could be easily cut down with some savvy DIY craft and a lot of smart recycling thinking. Here's how:   
Learning To Renovate
When you are looking at renovating your bathroom, it's important to set a budget for your time and your expenses before you start. To keep your renovation low cost, you will need to invest time and efforts in it. So, make sure that you start with the right DIY gear! If you bought an old house, it's likely that your original bathroom floor has been covered with layers of plywood and linoleum. If you want to refloor the room, you will need to go through layers of old flooring. It's a hard manual work, but this will increase the value of your home dramatically. Besides painting the walls, with a bathroom suitable paint that is designed to resist stains and moisture, the other main area of improvement is the tiled wall around the shower or the tub. It will give your bathroom a fresh and clean look. Finally, instead of changing your bathtub or shower, you can refresh them with a refinishing kit, to find the original shine.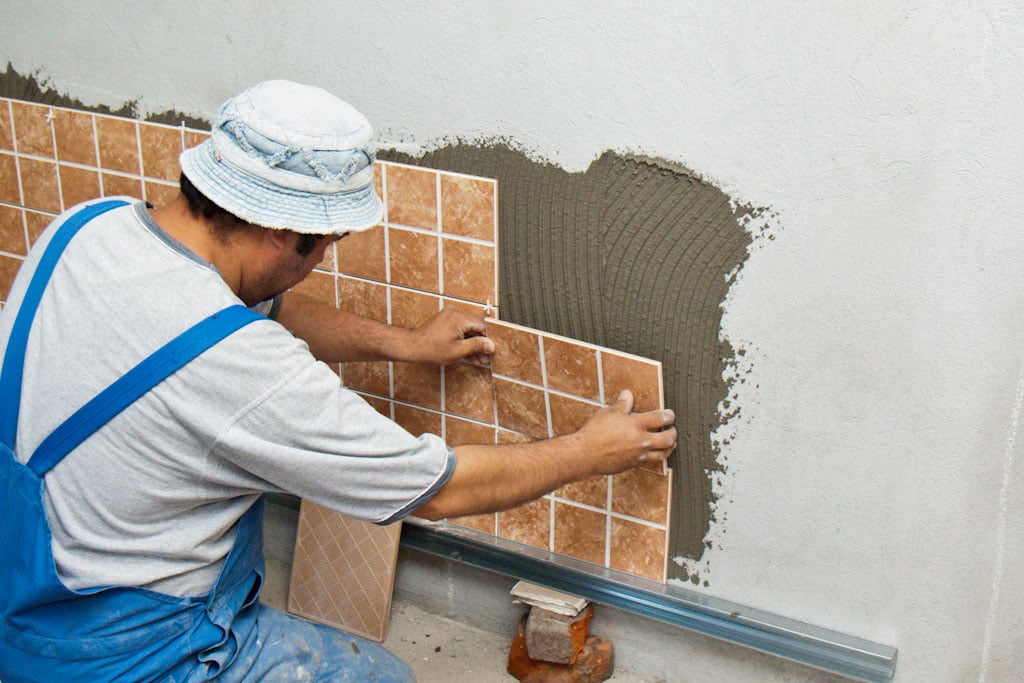 [Installing tiles on a wall/Photo courtesy of HowToSpecialist.com]

Don't Waste Anything
When you start diving into long renovation projects, you will rapidly find that you have a lot of items that can't be reused in their original form. For example, if you start working on the plumbing system, you may find yourself with plenty of unusable scrap copper. Don't just throw it away; if you can't repurpose it, others can, and they will give you a fair copper per pound price. Additionally, other larger items, such as a bathroom cabinet can be repurposed into an elegant kitchen cupboard or a craft chest of drawers. Similarly, if you have an old chest of drawers, you can also repurpose it into a bathroom vanity, following the previous step-by-step tutorial.
Be Your Own Plumber
Finally, if you have ever hired a plumber, you are probably aware of the cost of a professional repair/renovation work. In most cases, with the right tools, you can tackle most bathroom projects by yourself, at a lower cost, and without much efforts. Additionally, plumbing essentials such as installing a sink or adding new water lines are a lot easier than you might think. As a rule of the thumb, you can do most of your plumbing work within an afternoon and at no cost at all if you have the appropriate tool.