As much as many of us would like to, it's not that likely that you're going to end up living in a huge mansion. Now, that's not even necessarily a bad thing. After all, a huge mansion is often a lot of extra rooms to clean and a seriously expensive proposition overall. For those of us with slightly more limited budgets, everything from the classic studio apartment to a cosy family home are much more suitable. However, one thing that does often cause problems for a lot of people living in those kinds of situations is a matter of space. The vast majority of people bemoan the fact that they simply don't have enough space in their homes. However, despite how common this complaint is, it's one that's often much easier to solve than a lot of people suspect. While you might feel like the only way to increase the amount of space that you have is to move to somewhere completely new, the reality is that you can make room for yourself and even a whole family within the smallest of spaces. Here are just a few things that you can try in order to really make the most of whatever limited space you may have in your home.
Choose your room layout carefully
It's incredibly common that a lot of people tend to only ever think about the layout of the rooms in their home once when they first move in, and never again. Not only that but people often tend to stick with whatever seems most obvious, or whatever layout previous owners or tenants had used. However, just because something is the most obvious use of a space doesn't mean that it's the most effective. There are a few simple things to keep an eye out for when you're trying to change up the layout of a room to maximize space. One thing is to focus on sight lines. If it feels like your line of sight is constantly being interrupted, then that's a sign that you're not using the space in a room properly. Similarly, it's a good idea to think about the flow of a room. If you can't feel the way in which different rooms flow into each other, then there might be something wrong with the layout. That might sound like something of a strange and nebulous concept, but it's the kind of thing that you can just feel when you walk into a room, as long as you're paying close enough attention.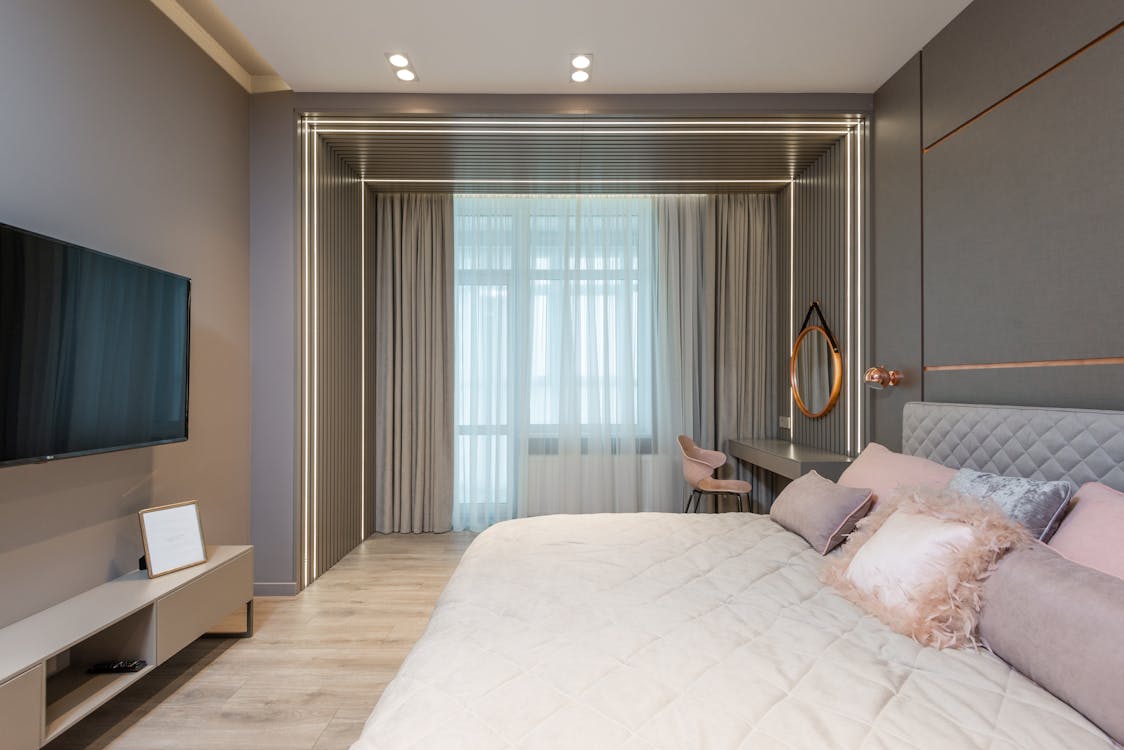 [Photo courtesy of Max Vakhtbovych/pexels.com]
Maximize your storage
Storage is often a serious issue for a lot of people. Whether you live in a three bedroom house or a studio apartment, you're almost certainly going to end up feeling like you don't have as much storage space as you would like. However, the reality is that, far from not having enough storage space, it's actually much more likely that you're just not using the space properly. And cupboards or closets in your home could probably contain many more things than they do if you just made an effort to organise them a little more. The issue that a lot of people tend to make is that they treat these kinds of storage solutions like some kind of dumping ground, simply throwing things into them at random without really considering how the space is being used. It might be tempted to take something of an "out of sight, out of mind" approach to your storage, but if you think about it carefully and avoid just dumping things into cupboards, then you're going to get a lot more out of it.
Embrace minimalism
Even if you're not what some people would call a "hoarder", there's a still a pretty good chance that you just have too much stuff. Now, this might not be spilling out of wardrobes and covering up the floor, but it's likely that you don't need nearly as many of your possessions as you think. This isn't necessarily a bad thing. After all, humans are naturally a very sentimental species, and it's in our nature to hold onto things that have meaning and importance to us. However, there comes a time when things spill over from being sentimental to being downright ridiculous. After all, you might want to hold onto a gift that your partner gave you for your anniversary, but do you really need a drawer full of every ticket stub and receipt from every date you've ever been on? It's great to carry memories of trips you've taken, but if you're filling up all of your shelves with knick knacks and souvenirs, then things are going to start looking pretty cluttered. Try embracing some more minimalist design ideas, and you're almost certain to find that even the smallest space feels a whole lot bigger.
Use light
Making a space feeling bigger is actually one of best things that you can do. After all, you can't exactly knock through a wall and add an extension to a third-floor apartment. One of the very best ways to make a room feel bigger than it is is to use light as much as possible. If you've ever walked into someone's home and felt as though the place was incredibly cramped, despite how large it actually was, there's a pretty good chance it was because of a lack of decent lighting. Bringing more light into a room can make even the tiniest space feel cavernous. Natural light is, of course, the very best option and you should make sure that you can get as much natural light into every room as possible. But when that's not possible make sure that you're keeping each room well illuminated while also tailoring the kind of light to each room. Colder, bright lights are better for kitchens and bathrooms, while slightly softer and warmer lights are much better for the bedroom where you want to create the most relaxing atmosphere possible.
Get creative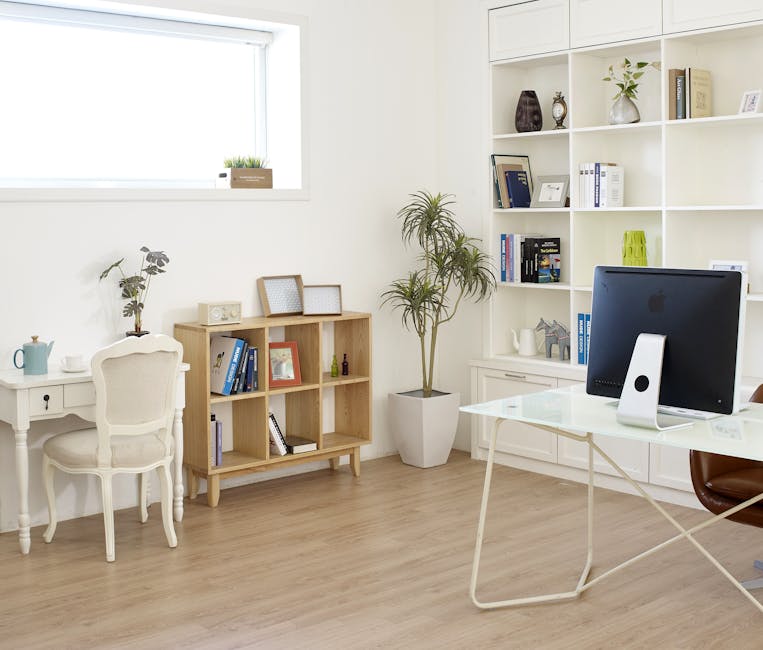 [Photo courtesy of Pixabay/pexels.com]
If you look up any notable examples of people living in incredibly small spaces, then the one thing that is immediately striking is just how creative they are forced to get with things like storage. After all, if you've only got a footprint of a few square feet, large bookcases aren't exactly something you can accommodate. So why not use things like floating bookshelves to not only use space in a more interesting and vertical way but also to use them as decorations. Or perhaps you can use an entire wall of a room as a place to stack things like books. That way it because something of a feature of the room, rather than a problem brought about by a lack of space. It's also a good idea to think in multiple directions. A lot of the time people only ever tend to think horizontally in the homes, so why not try thinking vertically instead? Rather than trying to spread things out in your home, use all of that space going up to the ceiling that is otherwise just going to completely to waste!
Unify your style
One of the toughest things about living in a small space is that it can often feel incredibly chaotic. This means that it can be difficult to relax, even in your own home, and you end up feeling tense a lot of the time. One of the very best ways to avoid this feeling is to create a unified style throughout your home. Rather than thinking of each room as an entity, completely distinct from all of the others, think of them as parts of the same whole. Not only will this allow you to create a much more cohesive sense of style and design, but it will make each room feel as though they flow into the next in ways that you may well not have been able to before. This not only makes the place feel larger but creates a much more calm, relaxing environment than feeling as though you're constantly juggling a bunch of different styles all mashed into one incredibly small space.
Make the most of your furniture
[Photo courtesy of Pixabay/pexels.com]
Furniture can be a tricky proposition for a lot of people living in very small homes because it tends to take up a lot of room. Beds and couches are often so large that they completely dominate any room that they're in. However, instead of seeing this as an inherently bad thing, why not embrace it? Make your couch into a statement piece in the centre of your living room? That way, rather than overpowering a room, it becomes a focal point that the room revolves around. This not only creates a much greater sense of visual interest to your home but also makes the areas around it seem much more distinct as well. Of course, you don't want to go too far with this. The key is to keep things to a minimum. A large couch can be a great statement piece, but you really don't want to end up with a room filled with chairs and couches when you're already struggling for space. Bigger and better furniture is great, but you should try and use less of it wherever you can.