In today's world, it is not uncommon for multiple members of a household to keep busy careers, volunteer positions, or even multiple jobs. More and more, even high school kids are saving up for university or earning some spending money by taking after-school and weekend jobs, and while that's great for their character, it means households can be pretty crunched when it comes to chores. With both partners working, sometimes your cleaning can fall by the wayside, or the bulk of the cleaning responsibilities falls to one partner, creating an unequal balance. This can lead to building up resentment, exhaustion, and other problems that don't need to get in the way of a happy home life. However, there is an easy solution to this problem, and that comes in the form of a professional housekeeper. Hiring someone trustworthy to clean the house while everyone is away can be a difficult task, but fortunately, there are services out there that simplify the process. Below are some important things to look for when you go online to find a housekeeper.
Targeted Search
The service you use should provide a targeted search where clients and families can narrow down their specific criteria. Maybe a family only wants a housekeeper once a month, maybe they only want the most difficult chores done, like cleaning the carpet or the curtains, or maybe they want someone who arrives regularly to do basic cleanups like the dishes and the bathroom. A good online service will have multiple options available that can be tailored to a client's specific needs, narrowing down your search from the get-go.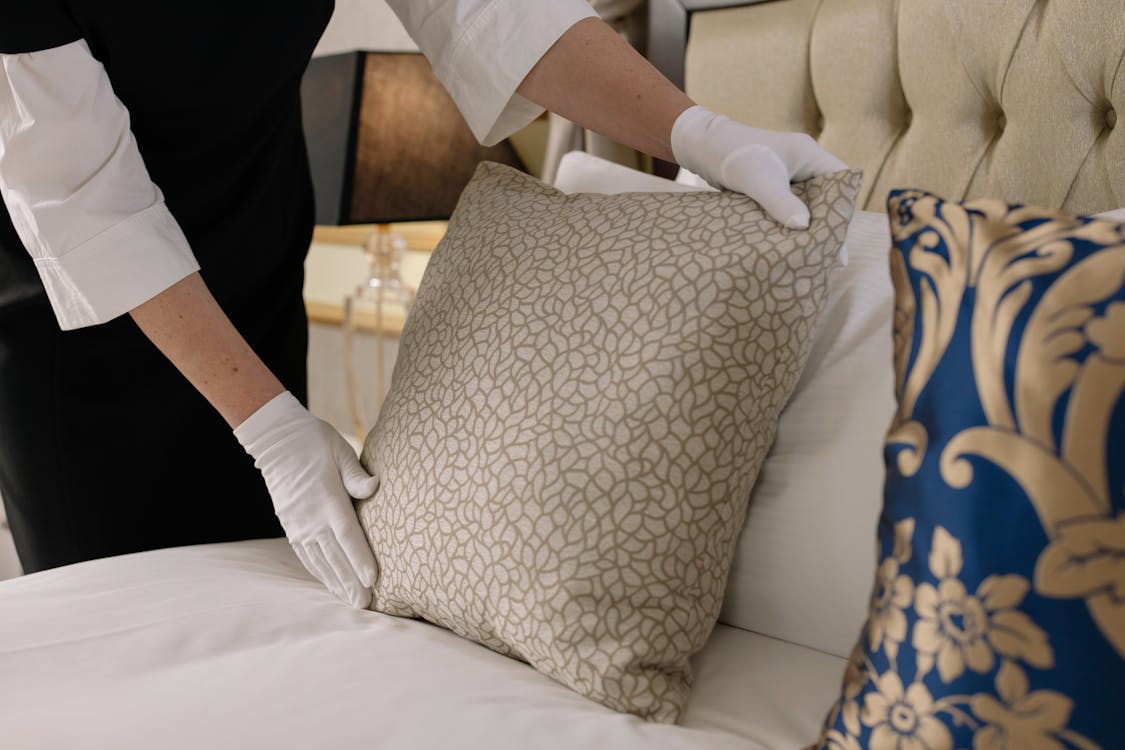 [Photo courtesy of cottonbro studio/pexels.com]
Notes on User Profiles
Online community boards should provide the client with a straightforward feature to attach their own personal notes to a profile, helping them save time by storing all of their notes from interviews and follow ups with their profile. Too many services that don't allow this simple feature will leave you scratching your head trying to remember which notes apply to which profile when you go to follow up to contact someone for the job. You won't have to worry about mixing up candidates or confusing your notes with must-have features like this one.
Favorite Lists
Another feature that makes sorting potential hires even easier is creating favorite lists, available on Housekeeper.com. If you've ever wished you could save the profiles of your top candidates to call in case your go-to professional is unavailable, favorite lists will quickly become your new favorite feature. Finding a great cleaning professional can take some time, and clients should be able to bookmark candidates that would potentially be a good fit so that they can come back to the website later without having to search for those individuals again. It's one of the ways that newer, tailor-made online services like housekeeper.com are making it easier to find help.
Customer Support
Another feature to watch for is a strong customer service: any quality online platform should have customer service numbers and contacts available to users so that you know you can use their service confidently and securely.
Identity Protected Phone Calls
Another great featured, another offered by Housekeeper.com, is identity protected phone calls, which means that your phone number is hidden when you contact a potential hire for a phone interview, meaning your contact information is protected until you've decided who to hire. There are a dozen other tips to consider when you're hiring a housekeeper, but these are some of the things that can save you a lot of time and headaches in your search.