If you are working with a small space you need to take advantage of every little nook and cranny. This is even more important with children's rooms. Sleeping s not the only thing that occurs in children's rooms, there needs to be room for play and activities. The following article lists some great ways to help you get the most out of a small room, specifically a child's rom. It's easier than you think, it's all about following a few simple design rules or tricks.
Colour
If you are starting from scratch you have a great opportunity. It's all about tricking the eye with clever design. Start from a blank canvas by removing whatever is in the room. Choose a light colour. Don't be afraid to ask your child what colour they would like and then negotiate, this is their room after all. Light colours reflect natural light and light makes spaces appear larger. It's that simple.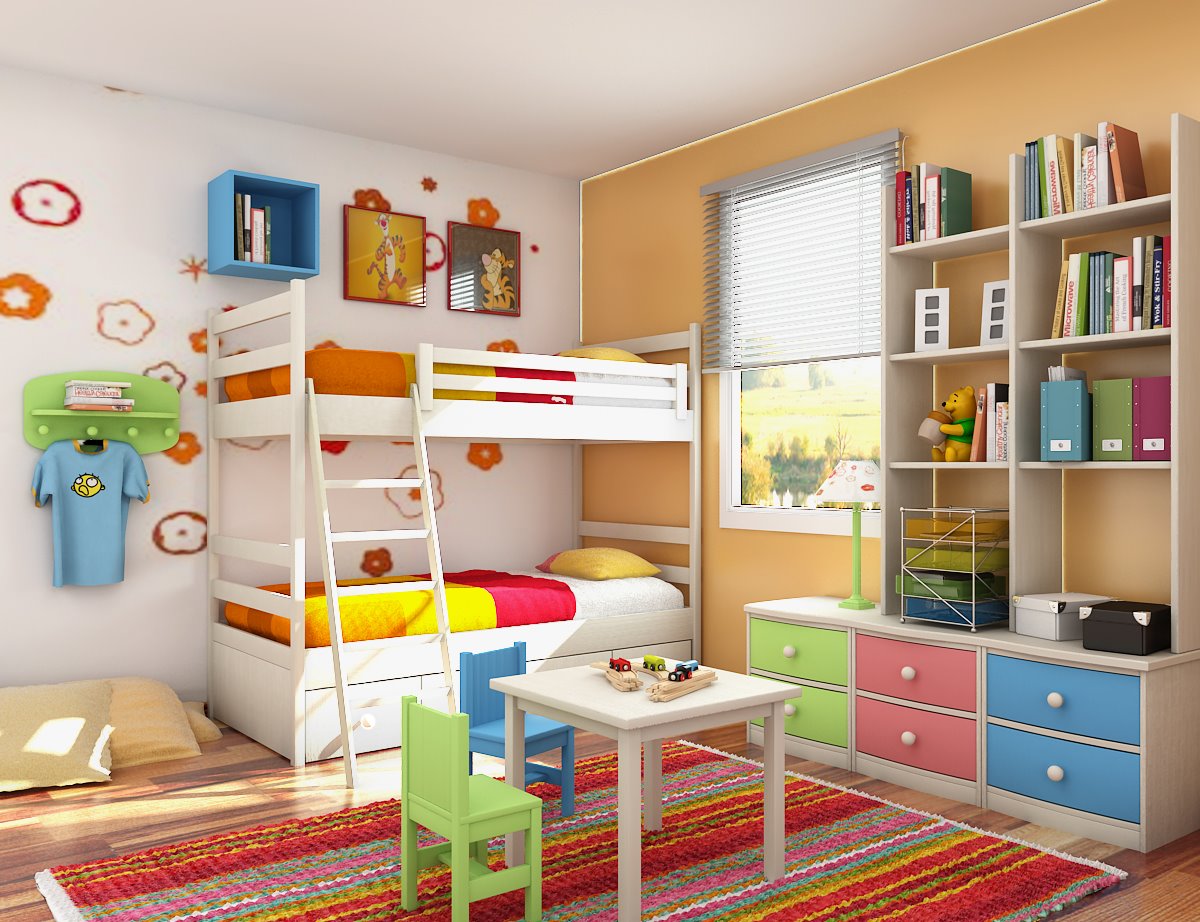 [Image not mine]
Light
Light is the best way to make a room appear spacious. Try to take advantage of natural light as much as you can, it can be as simple as replacing your blinds to something that covers less of the window when retracted. When it comes to artificial light, don't be afraid to have more than one light in the room. You should have at least a ceiling light and a lamp at your child's desk. For younger children you may want to also include a night light.
Storage
The best way to make a space appear larger is to not cram it full of items. That's where storage comes along.Clever storage will not only keep your child's room neat but also keep them organised. They will actually know where their belongings are and you won't have to constantly pick up after them. It's like a dream come true. Try to think outside of the box. Shelves are good but you want all the furniture in the room to serve more than one function. You don't want to waste space on a boring bed, go for a bed with drawers underneath it instead.
Furniture
Like I just said above, you want the furniture that you choose to serve more than one function. There are great amount of different designs of beds that really utilise the space you have. For example bunk beds without the bottom bunk. This is a great way to create a study or chill out area. Go to http://www.bunkers.com.au/ to see what I am talking about. If you have enough space for a chair or bench try one that has hidden storage or shelves on the side. Look for smart furniture, it's out there.