Sometimes you'd just like a change – perhaps the bedroom looks drab after a long winter and you want to refresh it or the bathroom needs a new look. There are some quick and easy ways to update any room in your home, especially with textiles such as comforters and pillows. New camo  print bedding can transform a dull bedroom with little more effort required than making the bed while some colorful toss pillows can refresh a mundane den or family room in minutes.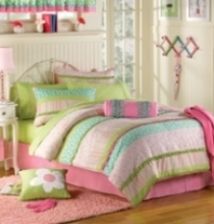 The bathroom can be updated and it does not necessarily mean you need to replace the bathroom vanity and faucets – there are some easy upgrades which don't require calling a plumber. Start with the tub or shower and consider replacing the conventional shower curtain rod with a curved shower curtain rod to change the tub profile and add extra elbow room. A new shower curtain can transform the look of a bathroom plus experts recommend replacing it on an annual basis so why wait.
Introduce a new color with bath mats, towel and window treatments or create a more spa-like experience with the addition of a teak shower bench or bath mat. A towel warmer can really upgrade the entire bath and shower experience – nothing beats the feeling of a hot fluffy towel after a shower; there are free-standing towel warmers along with wall mount and counter top models designed to work in almost any bathroom configuration.
A handheld showerhead is another spa-like amenity that has real value in any home. Shampooing hair, washing pets and even cleaning the tub or shower enclosure is much easier with a handheld showerhead. They are also useful for seniors and invalids who may wish to bathe while seated.
We are leaving for vacation on Saturday so I started cleaning around here in our apartment before I went busy packing our clothes. When my husband  arrived home he complaint again with the stench of bleach in our apartment.
I typically used bleach on our floor when I mop it, I also cleaned the microwave oven which I can't remember anymore when was the last time I cleaned it, lol! I have been very busy and engrossed spending my time online.
The other day my mother asked me again if when we can start building our house, I answered maybe next year. We have no budget this year as I am going home, she added that one of our relative will also build a house after my cousin went home. So if ever they started their house construction our house is the only left in a bad condition around the neighborhood because most of the houses around us are already concrete made unlike us which is just semi-concrete.
Aside from house construction my mother also wish to buy a refrigerator so she can start a business that could help them to survive for their daily food. It is a good plan actually so I am now saving for it so when I went home I can buy her even a small refrigerator.